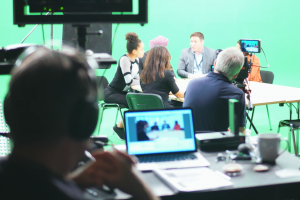 The 2016-20 Civil Service Workforce Plan provided the impetus to accelerate modernisation of our recruitment processes.  We introduced a new website to showcase careers in the Civil Service, we upgraded our recruitment technology to improve the user experience and we introduced new, flexible Success Profiles to make hiring easier.  This same pace and ambition is present in how we test and assess people for jobs.  
Hiring managers can spend many hours sifting job applications, which is time that could be better spent focusing on the candidates with the most potential to succeed.  With the advent of new technology, it's no surprise that seamless online assessment delivery has become the preferred way of assessing skills and potential. 
It's only right then that we upgrade our assessment tools to make them more digital, flexible, robust and based on the best scientific evidence.
We have made significant progress
Driving this work forward is an in-house team combining occupational psychologists and digital expertise.  In 2019 we launched a new strategy that introduced new ways of using online tests to support the assessment of people for jobs.  For example, we brought in-house the expertise needed to develop new tests and assessments, and we introduced new, more robust tests of a higher quality, and which were more cost-effective, than what we have done previously.  
Most importantly, though, reflecting the Civil Service ambition to be the UK's most inclusive employer, we took a range of actions aimed at transforming the experiences of, and outcomes for, all job applicants - irrespective of personal background.  
Whenever new tests or assessments are developed, it's important to understand the needs and concerns of users.  It's only natural that high stakes recruitment raises concerns for some people given that, ultimately, only a few people are successful in being selected.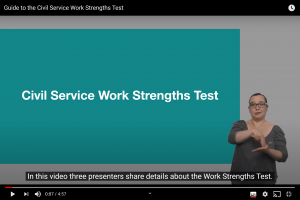 As there is historical under-representation for some groups, it's crucial to understand how new products or services may be experienced differently and to take action to reduce or remove the negative impact this may have on those groups.  
We do this at all stages of developing a test, from scoping through to trialling.  We consult, and trial content with, thousands of users every time a new test is developed.  It's important to reflect the diversity of the United Kingdom when doing this, to ensure there are no surprises when a test is released in live use.  After a test is implemented, we closely monitor its performance, carrying out regular statistical deep dives and user research, to identify where there may be a difference in experience based on personal characteristics.  
Examples of how we have taken action based on specific needs include:
changing the way numerical test questions are presented, so that blind test takers can fully access them;

researching the needs of people who have autism to improve the way the tests are worded, as well as developing new options for provision of adjustments to the standardised testing process;

including British Sign Language interpretation in all our multimedia content, so that deaf BSL users can access all parts of the test;

upgrading all tests to make them fully accessible to test takers who use accessibility features or specific accessibility software when using websites;

using tests which adapt to the way the test taker responds, rather than a one size fits all approach, so that they have the best possible chance to demonstrate their true abilities. 
We recognise that some people, and groups, find high stakes recruitment more anxiety provoking.  They may not have the same resources that others can draw upon when applying.  For these reasons, we have removed time limits on most of our tests, because putting people under time pressure tends to cause greater anxiety for under-represented groups. Now, we include them only when there is a very strong justification.  
Other steps we take to ensure everyone feels sufficiently prepared include:
creating practice opportunities prior to the actual test, so that applicants can fully familiarise with what the test will be like;

providing

comprehensive guidance materials

, including how-to videos;

insisting on high quality support services for test takers who may need more help with completing a test, particularly where they have a disability and need some form of

adjustment

to the standard process.
There is more to do and more to come
But of course there is much more we can do and need to do.  The Civil Service needs to continue to adapt to new realities.  The 'Shaping our Future Together' agenda will provide us with further opportunities to shape our testing and assessment strategy to meet the expectations of our fellow citizens for brilliant public services. 
Whether it is adopting new insight-led breakthrough assessment methods, or preparing for further automation, we will continue to adapt in order to best serve its people, the government of the day and wider British public.