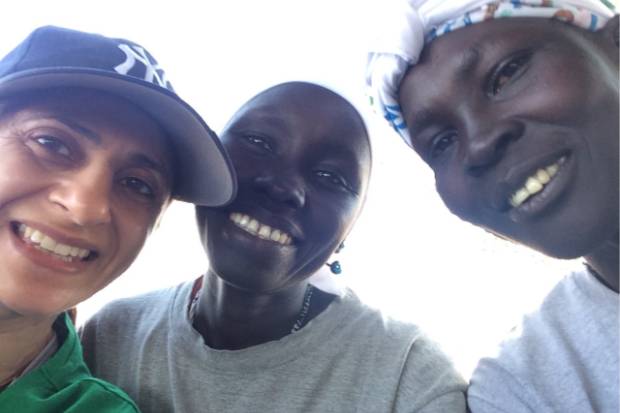 Volunteering can provide us with amazing opportunities to get involved in worthy causes and give something back. It can be profoundly rewarding too, to connect with people we may otherwise never meet and learn from their perspectives.
Civil servants can access up to five days' special paid leave each year for volunteering activity. How we use this time is a personal choice – I know many who are school governors or give time to homeless shelters.
I give my time as a trustee to an amazing UK registered charity – Concern Worldwide. Concern is focused on tackling hunger, transforming lives and working with some of the world's poorest communities to build their resilience. Part of Concern's funding for South Sudan comes from UK Aid, through the Department for International Development (DFID).
Concern receives UK Aid from the Department for International Development. As a board member, in addition to being responsible for assessing our programme delivery, risks, impact and monitoring finances, I'm keen to learn how our public policy and the Sustainable Development Goals (SDGs) are being met through government-supported organisations.
Every few years, Concern arranges for trustees to visit countries where it works to help us gain a deeper understanding of country contexts and allow us to see the vital yet highly challenging work of our teams in the field.
South Sudan – the world's newest nation
This year, I used my volunteering allowance to visit South Sudan with Concern. South Sudan is the world's newest nation, having gained independence from the Republic of Sudan in July 2011. 
With access to substantial oil reserves, there is much hope that the country will develop to be strong and prosperous. Sadly, however, it has seen much internal violence and conflict since 2013. 
There is limited infrastructure in the country, impairing access to education and health services, food and nutrition, and gender equality remains low. Many people have become internally displaced within the country or have fled as refugees.
Concern operates across South Sudan – delivering lifesaving emergency and development programmes.
Nutrition centres
I, my fellow trustees and programme colleagues landed in Juba, South Sudan's capital. and travelled to the Protection of Civilians (POC) site, to see the delivery of programmes.
I have worked with the UN in many conflict zones, but I have never seen one surrounded by a high perimeter wall with barbed wire, cameras, guard towers, and UN peacekeepers patrolling in armoured tank convoys.
Once inside the POC, where approximately 26,000 people live in tents, we drove to one of our nutrition centres. I watched as our staff weighed toddlers and young infants, brought in by their mothers, and took their temperature and checked for infections. 
Concern's nurses and nutritionists give vaccinations, malaria treatment, antibiotics and other medicines, and distribute cereals, pulses, oil and salt, and nutritious formula for the children. They also give soap and teach mothers how to maintain hygiene to prevent the spread of diseases.
We then visited a women's group inside the POC, where women come to drink tea, talk, sing songs and connect.
We asked them why they came to the group and one lady replied: 
"Here I can enjoy tea, talk openly and let go some of my tension, so when I go back to my family in my tent I feel calmer."
Building resilience
The next day we flew to Nyamllel in the northwest of the country. There we saw a nutrition outreach centre and medical facility where sick women and children are treated by our doctors.
People had travelled for up to two hours to reach our food and medical centres, in a land where the average temperature ranges from 30 to 40 degrees. We also deliver healthcare services in more remote areas through mobile clinics.
We drove through the dry bush land to meet an amazing group of men and women who had been selected by their communities to be leaders.
I asked them what they gained from being in the group. Many women had learned breastfeeding and hygiene techniques, reducing instances of diarrhoea in their infants by stopping feeding newborns water until they were six months old. The men said they had learned how to help women in the home and to value the work that they do.
We also saw groups who were developing their land and building resilience. One, with help from Concern and the UN World Food Programme, had built a road connecting their village to the local school to improve the access for their children. Another had started a local cooperative savings programme to help each other with short-term loans, dividing the income from the interest gained equally. While an agro-farming group was teaching block farming techniques.
What I learned
It is great to see how targeted projects can sustain, support and empower people, even in countries in or emerging from conflict.
Having seen our projects first hand, I am an ambassador who can help share our vital work with Concern's donors. I can advocate for more positive change, and share the stories of the emergency and development needs of so many great and resilient men and women in South Sudan. 
Volunteering comes in many forms – as do the rewards and insights it can give us. A great deal can be accomplished in five days. How will you use yours?
If you would like to know more about volunteering and how to use your five days, talk to your department's volunteering network.