Colleagues across government are exploring how they can help tackle the climate crisis.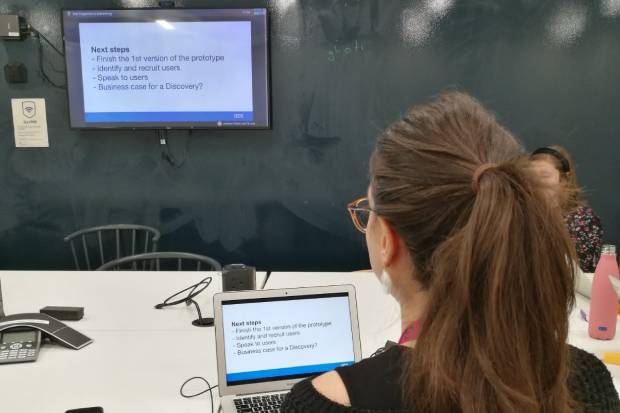 The watershed of a new decade is a great opportunity to take stock and look forward with renewed energy and enthusiasm. I personally found 2019 a challenging year, partly because it was my first year in the Civil Service coming from much smaller organisations and then I took on a new role in my team. But also because of the external events related to the climate crisis that have mounted, quite literally, around our government buildings. 
Since the Extinction Rebellion protests and the climate emergency that Parliament declared in May 2019, we now hear daily news stories reporting the reality of climate and environmental breakdown. But given the political impartiality we must observe as civil servants, as well as the limited extent to which our roles might technically relate to government climate action targets, I've been wrestling with how I can best play my part while working in government.
Meanwhile, the Government has announced the Year of Climate Action in the lead up to the COP26 climate change conference in Glasgow this November. With all this in mind, the time feels ripe to seed some grassroots action across the Cabinet Office. 
So, here are two of my climate action appointments for 2020. (If you would like to get involved – regardless of what department you work in – or you are just curious, I invite you to join me.)
Collective for Climate Action meet-up, 1 Horse Guards – Monday 2 March, 12pm, 1HG room 1.30.
Last year, Defra colleagues set up the cross-departmental Collective for Climate Action  (CfCA), to raise climate change awareness and explore what role civil servants can play. The collective was recently recognised by Apolitical as one of its global public service teams of the year.
In the spirit of joining up across government, I'm hosting the first CfCA meet-up for colleagues from Cabinet Office, DCMS and the Treasury, at 12pm on Monday 2 March, in room 1.30. Sign up to attend and  find out what the Collective has been doing so far, and how you can get involved. If you are interested, but not based in London, please get in touch with me, and I'll be able to point you to a local CfCA meet-up. 
Cross-government Climate Work Show and Tell – 12 noon on the first Friday of every month 
Together with colleagues from Government Digital Service (GDS), the cross-government Climate Work Show and Tell launched on 5 February, as part of Services Week. The show-and-tells will take place on the first Friday of every month at midday. The idea is to provide a simple, open way to champion, inspire and join up efforts across government. Speakers don't have to be climate experts, nor be sharing any great achievements – just real people, concerned about the climate crisis, and incorporating addressing it into their work.
For the first show and tell, more than 30 civil servants joined in, in person and online, to hear colleagues share their climate-related work. We heard from:
More than 100 civil servants have signed up to listen into the next one – if you'd like to join them, sign up to the Cross-Government Climate Work show-and-tell mailing list online. 
And if you'd like to share any of your climate-related work, however small or insignificant it might feel, request a presenting slot.
The next cross-government Climate Work Show and Tell will be on Friday 6 March at 12 noon. I hope you can join us!