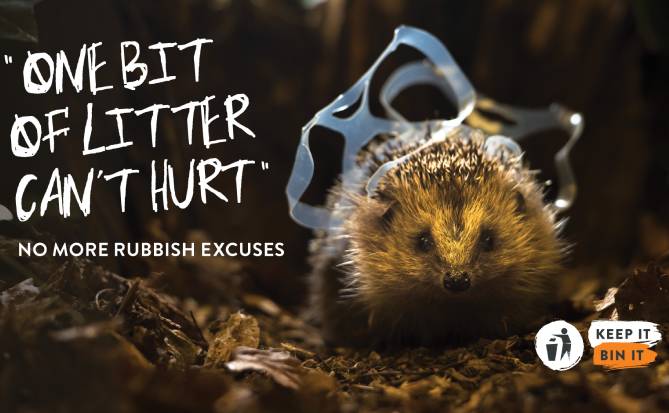 Keep It, Bin It is a national anti-litter campaign, backed by commercial partners such as Greggs, Mars Wrigley Confectionery, and McDonald's. It was launched in November 2018, born out of a commitment in the April 2017 Litter Strategy for England to create a national anti-litter behaviour change campaign. 
Litter has a huge social, environmental and financial impact. In 2017/18, street cleaning cost local government £663 million. Keep It, Bin It aims to change this by challenging public perceptions about whether it's acceptable to litter. Although the campaign reaches the population as a whole, it specifically aims to encourage behaviour change among 16- to 24-year-olds, who are more likely to find littering in certain situations acceptable. 
Defra joined forces with established environmental charity Keep Britain Tidy. We decided that the best way to change attitudes among young people was through a message about animal welfare, since this demographic cares deeply about the environment and the impact of their actions on the planet. 
Crucially, we wanted to build a coalition of commercial partners to support the campaign with financial contributions or in-kind marketing support. We approached manufacturers and retailers whose products are often littered, and companies whose premises or land is where littering often occurs (for example, cinemas, shopping centres and festivals). We knew that getting these partners on board would be crucial to achieving the reach needed for nationwide behaviour change. 
Targeted social media
Despite a modest budget, the campaign has reached 3.3 million 16- to 24-year-olds through targeted social media activity. In-kind support has been critical to reaching even more people offline. For example, with the support of PepsiCo UK, our flagship campaign video was screened in Cineworld venues before family films. We were also gifted digital screen space in Network Rail stations, and digital billboards in motorway service stations. In total, we have had in-kind support from partners worth millions of pounds. 
We have concentrated our partnership marketing efforts on our core audience of young people. For instance, we were given space at Leeds Festival to display a street art mural, which some headline music acts even came to visit. We also collaborated with McDonald's on a playful online video, where football commentators offered 'rubbish commentary' to accompany real-life everyday littering, complete with slow-motion playbacks when litter missed the bin. The video was created by and hosted on JOE media, a popular website for our target audience.  
We also worked with influencers, such as freestyle footballer Liv Cooke, who filmed an interactive #backofthebin challenge on social media, inviting users to bin their litter with a footballing 'trickshot'. The video has been watched more than 472,000 times. Working with influencers also helped us explore new and relevant channels for our audience: Cooke posted the video on her TikTok profile, where 40% of users are between the ages of 16-24. 
Partnership success
Working with partners has led to real success. The campaign has had high recall among the target audience. Surveys have also shown a reduction in the proportion of 16- to 24-year-olds who find it acceptable to litter if bins are full or there are no bins around. 
Litter's impact on all aspects of our wildlife is heart-breaking. But researching the campaign gave us surprising insights into which animals most tugged the heartstrings. Pictures of hedgehogs were seen to be more emotive than, for example, pigeons, foxes and grey squirrels, perhaps because these animals have negative connotations in cities.
Nationwide, young people are increasingly taking action for our environment. Our campaign has used this as an opportunity to encourage this generation to consider the impacts of littering.