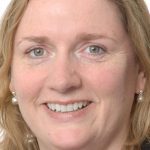 An estimated 11 million people have fled Syria since the war began there in March 2011. Many have had their lives torn apart by conflict and face an uncertain future.
In January 2014 the Vulnerable Persons Resettlement Scheme (VPRS) was launched to help those in greatest need. They include people requiring urgent medical treatment, survivors of violence and torture, and women and children at risk.
In September 2015, the then Prime Minister announced the scheme would be expanded to resettle 20,000 of the most vulnerable by 2020. We knew that this would be a major task, and that it could not be achieved by one department alone.
True partnership
To fulfil this ambition, a joint team comprising members of the Home Office, the Department for International Development (DFID), and the Ministry of Housing, Communities and Local Government was established. This truly collaborative effort helps families affected by the conflict to start a new life in the UK, with each department bringing a range of expertise, strength and knowledge.
There are a number of steps to identifying refugees, bringing them to the UK successfully and settling them here. Overseas, DFID takes the lead, working in the Middle East with the UNHCR, the UN refugee agency that refers resettlement cases to us.
Here at the Home Office, we manage the casework, logistics and policy of the resettlement scheme, ensuring that refugees' often complex needs are met at every step of the journey. The Ministry of Housing, Communities and Local Government secures pledges for accommodation and ongoing support from local authorities for the refugees after their arrival. And other departments, such as those for Education, Health and Social Care, and Work and Pensions, help us by providing policy advice and operational support to help meet the needs of our resettled families.
Community groups and individual families, alongside local authorities, also play a vital role in helping help people settle into a new life in the UK.
UNHCR's UK Representative, Gonzalo Vargas Llosa, recently commended the scheme as an example of successful collaboration between central government, local and devolved authorities and service providers.
Resettling people is only one strand of our efforts. It is complemented by the UK's significant humanitarian aid programme and diplomatic efforts to end the conflict, and the wider contribution the UK makes through its asylum and protection system. A combination of action in the region and resettlement is the best way to ensure that the UK's help has the greatest impact for refugees and their host communities.
Partnership results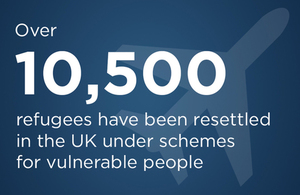 More than 10,000 people have now been resettled under the VPRS and over half of these are children. Everyone involved in this work is incredibly proud of this achievement, which represents the halfway point in realising the Government's commitment.
It has only been possible because of the partnerships at the heart of our scheme. It really represents the best of what we can achieve in government when we work constructively together.