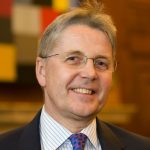 The results of the 2017 Civil Service People Survey are available here. First, I would like to pass on my thanks to everyone in the 98 participating organisations who spared the time to complete this survey, which is now in its ninth year.
In all, 294,905 of you took part, over 15,000 more than last year, making an overall response rate of 67%, up two percentage points (pp) from 2016 and the highest it's ever been.
We have ambitious aims for a brilliant Civil Service. These are certainly achievable, and this survey of your attitudes and experiences of working in the many parts of our organisation is an invaluable resource. It provides evidence and insight into the areas where we are doing well and others where we need to improve, and will shape our activity in the year ahead.
This year's survey results are very encouraging. Looking across the Civil Service as a whole, scores for the vast majority of questions (85%) have improved since 2016. These are called 'benchmark scores' as they provide a point of comparison for scores in departments, agencies and teams.
The overall Employee Engagement Index give us an overall sense of how people feel about working in their organisation as part of the Civil Service, based on the answers to five questions in the survey. The index for 2017 is up 2pp at 61%, also the highest it has ever been.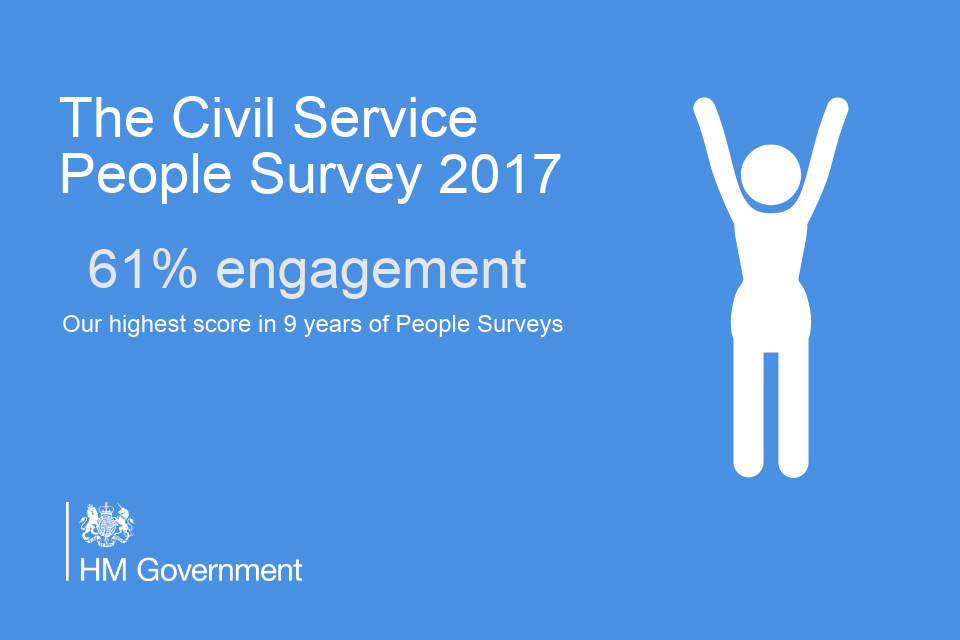 Benchmark scores for all five questions that make up the overall engagement index have increased since 2016. The biggest increase was for "I would recommend [my organisation] as a great place to work", up 4pp to 55%. The highest score among these questions was for "I am proud when I tell others I am part of [my organisation]" (62%, up 3pp).
Scores for eight of the nine themes within the people survey have also risen, and are at their highest level since the survey began in 2009. The lowest theme score, for 'pay and benefits', was also the only one to fall, by 1pp to 30%.
The biggest jump among theme scores was for 'leadership and managing change', which has increased by 4pp, to 47%, its highest point since 2009. Given the challenges that the Civil Service has faced over the last year, this result is especially encouraging. I am pleased to see further increases, on top of last year's rises, in the number of people who believe that senior managers and their own managers actively role model the behaviours set out in the Leadership Statement. We know that the quality of leadership and change management has a big impact on how people feel about working in the Civil Service so we must ensure we sustain this improvement.
Following the recent publication of the Civil Service Diversity and Inclusion Strategy, it is great to see that the survey also suggests we are making progress in creating an inclusive culture. Scores for all questions on "Inclusion and fair treatment" have increased. The benchmark score for "I am treated with respect by the people I work with" remains high, at 85%. And a new question shows that, on average, 74% of people believe their organisation is committed to the goal of a diverse and inclusive workplace.
In this very positive picture, my one disappointment is that the benchmark scores for discrimination and bullying or harassment have not moved. Among those who had experienced bullying or harassment, there is a small increase in the proportion who reported their experience (36%, +2pp since 2016); but the percentage who felt their issue had been resolved stayed the same as in 2016 at 20%.
No amount of bullying or harassment is acceptable. Understanding, through the survey, where inappropriate behaviour is taking place allows leaders to focus their attention and take action. This is an area we will be looking at with redoubled seriousness to ensure existing arrangements for raising concerns are fit for purpose. On average, 63% of staff feel able to challenge inappropriate behaviour in the workplace. The recent allegations of sexual harassment in the media only underline the need for people to feel secure in reporting misconduct of any kind. Where people feel able to identify themselves, it is easier to investigate complaints fully and take action where necessary. But anyone raising a concern must be reassured that their confidentiality will be respected and that it's OK to do so anonymously, if they prefer.
In terms of motivation, benchmark scores for people being interested in their work (90%) and being trusted to do their job effectively (89%) remain very high and would be the envy of any organisation in the country.
The same is true of responses to questions relating to understanding of "organisational objectives and purpose" and staff awareness of how their own work contributes to these, which are both over 80%.
Overall, the results show encouraging improvement across almost all areas of the questionnaire, and highlight those areas where we need to redouble our efforts moving forward - something that I encourage you to discuss within your own teams, as I will be doing with Permanent Secretaries in the coming weeks.
Meanwhile, thank you again for the outstanding work you all do every day, and to everyone who took part in the survey - we are listening, and with your feedback we will work together to improve our Civil Service so that it is one we can all be proud of.
Follow Sir Jeremy on Twitter: @HeadUKCivServ.