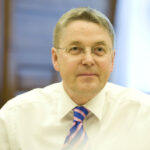 On Friday I wrote to all civil servants setting out our responsibilities following the result of the referendum on Britain's membership of the European Union.
This is obviously a time of uncertainty for the country, for political parties and for the Civil Service. So I wanted to give you some more information on how we will support the Government in taking forward the public's decision to leave the EU.
The first thing we have done is to appoint Oliver Robbins as the new head of the EU Unit in the Cabinet Office. Oliver brings with him a wealth of international and negotiating experience, including most recently from his time in the Home Office.
The unit will draw on the very best talent from across the Civil Service, as set out by the Prime Minister. It will report to the Cabinet on delivering the outcome of the referendum and will have responsibility for establishing options for our future relationship with Europe and the rest of the world from outside the EU.
During the negotiation period, it is vital that government continues to deliver. The Cabinet agreed earlier in the week to continue to pursue all of the Government's manifesto. It is essential that we continue to support its implementation and normal business as usual.
Of course, some things will change. All EU-related business, no matter how routine, will need to be handled carefully for as long as we remain a member of the EU. But for many civil servants our work will not be directly affected. We will continue on the path to becoming the Civil Service set out by our vision, while maintaining the high quality of service that the public have come to expect.
There is no doubt that we face a significant challenge. But throughout my Civil Service career I have found that it is precisely when civil servants are under the greatest pressure that they are at their best – adjusting rapidly to new priorities or unexpected events, and finding clarity in complexity. That is what we need to do now – working methodically through the issues so that the new Prime Minister and the new Government will have all the information and advice they need.
I am absolutely confident that if we stick together and do our jobs, taking one step at a time, we will help support the country through this period.
Follow Sir Jeremy on Twitter: @HeadUKCivServ