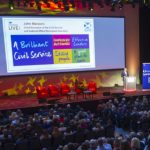 The first two Civil Service Live events of 2016, in Glasgow and Sheffield, have set a terrific standard for the others to follow.
Nearly 4,000 delegates have attended CS Live to date, and the remaining events, in Coventry (29 June), Cardiff (5 July) and London (12 and 13 July), are set to be equally well supported.
The whole event is built around a vision for 'A Brilliant Civil Service' and what this means for civil servants. And there are still spaces left on some sessions you can register for - including some on the four themes underpinning the new vision: Improved outcomes; Effective leadership; Skilled people; A great place to work.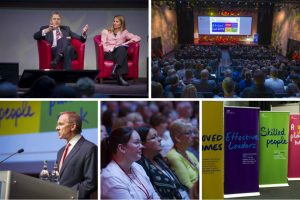 See what sessions (below) appeal to you - it's first-come, first-served.
And don't forget, if you're looking for one-to-one advice on any aspect of your career and personal or professional development, you can sign-up for spot mentoring on the day!
If you have already registered for Civil Service Live and want to attend any of these sessions, click here, select the appropriate venue, log in, using your email address, and add new sessions to your agenda. If you have not yet registered, click here. 
Venue
Session
Time
Coventry

29 June

Sharing data, changing lives (IMP2)

09:30-10:15

Coventry

29 June

Building world-class digital technology skills in government (SKP25)

09:40-10:25

Coventry

29 June

The Civil Service Workplace Adjustments Service (GPW9)

09:50-10:35

Coventry

29 June

PLENARY

: Improving outcomes and building trust in public services (IMP1)

10:15-11:15

Coventry

29 June

T-Shaped Experts - What shape are you? (SKP28)

10:45-11:30

Coventry

29 June

PCS: The Trade Union – making the civil service a great place to work (SPO2)

11:50-12:35

Coventry

29 June

Commercial Capability in the Modern Civil Service (SKP12)

12:00-12:45

Coventry

29 June

PLENARY

: Effective Leadership (EFL1)

12:00-13:00

Coventry

29 June

Listen Up! Engaging And Influencing Your Team (EFL11)

12:45-13:30

Coventry

29 June

Civil Servants' Showcase: an audience with Sir Jeremy Heywood (GPW18)

12:55-13:40

Coventry

29 June

The Open University: Build it and they will come? How to get learners to engage with learning (SPO8)

13:05-13:50

Coventry

9 June

PLENARY

: How do we define and develop talent in the Civil Service? (SKP1)

13:30-14:30

Coventry

29 June

Productivity in NHS Hospitals: The Carter Report (IMP7)

13:50-14:35

Coventry

29 June

PLENARY

: What does it mean to be a great place to work? (GPW1)

15:00-16:00

Coventry

29 June

Giving Back to Communities: The Civil Service Lifeboat Fund (GPW3)

15:15-16:00

Coventry

29 June

Troubled Families – using data to improve policy and delivery (IMP6)

16:00-16:45

Cardiff

5 July

The importance of the law in the modern Civil Service (SKP14)

09:30-10:15

Cardiff

5 July

Building world-class digital technology skills in government (SKP25)

09:40-10:25

Cardiff

5 July

Will there still be jobs? How technology is transforming the role of procurement and contracting - and generating new opportunities (SPO9)

09:40-10:25

Cardiff

5 July

Winner of Civil Service Live 2015 Innovation Challenge (IMP9)

10:45-11:30

Cardiff

5 July

The Open University: Build it and they will come? How to get learners to engage with learning (SPO8)

12:45-13:30

Cardiff

5 July

Delivering better personal outcomes in homecare (IMP8)

15:15-16:00

Cardiff

5 July

Building world-class digital technology skills in government (SKP25)

16:10-16:55

Cardiff

5 July

Sharing data, changing lives (IMP2)

16:10-16:55

London

12 July

Private Medical Insurance (PMI) (SPO14)

09:30-10:15

London

12 July

Improving outcomes in public services - an NAO perspective (SPO15)

15:30-16:15

London

12 July

Emotionally Intelligent Leadership (SKP33)

16:15-17:00

London

13 July

Case study: How to improve employee financial wellness, for free (SPO13)

10:55-11:40

London

13 July

Building Functions and Professions: A Forward Look to 2020 (SKP33)

11:40-12:25

London

13 July

Mobile Generations – Wireless Well Working (SPO12)

11:50-12:35

London

13 July

National Security: values and secrecy (GPW19)

12:00-12:45

London

13 July

System Leadership in the Home Office (EFL14)

12:45-13:30

London

13 July

Emotionally Intelligent Leadership (SKP33)

13:05-13:50

London

13 July

The Internet of Things - Transforming Public Services (IoT1)

13:15-14:00

London

13 July

Improving outcomes in public services - an NAO perspective (SPO15)

13:50-14:35

London

13 July

Emotionally Intelligent Leadership (SKP33)

14:10-14:55

London

13 July

Winner of Civil Service Live 2015 Innovation Challenge (IMP9)

16:05-16:50