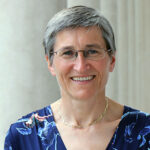 Vulnerability may not be the first quality that comes to mind when you think about strong leadership. In reality, we're all vulnerable, but more often than not we spend our time trying to hide our vulnerable side. Here's why I think that should change.
There are all sorts of reasons why I might not want to appear vulnerable. Talking about my feelings – particularly of frustration, disappointment or anxiety – could diminish me in the eyes of others. Talking about things that went wrong might lead people to think that I'm not up to my job. Even talking about our families can be difficult if they're not of the traditional nuclear variety, or if home life is dominated by teenage boundary-testing.
It can feel hard to expose what might be considered weaknesses when there's so much pressure on us to be strong. But for me, they are signs of humanity. They make us who we are and enable people to empathise and work with us.
'Check-in'
Sharing information about our whole selves is also fundamental to building trust. That's why I've introduced the practice of 'check-in'. Every meeting and workshop starts with each person sharing one thing that's on their mind in their work life, and one in their personal life. It helps us to know how other people are feeling, and where they might need some support – and makes us more effective as a top team.
Some people just don't want to talk about this stuff. But for many of us, it's not as clear-cut as that. I'm generally pretty open about my feelings and happy to talk about the downs as well as the ups of my career. In some situations, though, I find myself adopting a closed approach. It's not related to the size of the audience or the type of occasion. It almost always comes down to the 'feel' of the room – is it warm? Is there trust? Do I feel supported?
So now, when others are reluctant to share and make themselves vulnerable, I always ask myself whether I can do more to make it feel comfortable for them to do so. As leaders, we set the tone for our teams. I want people to bring their whole selves to work and to feel supported and empowered when they do. And I see it as my job to make that happen.
Break the stigma
In the Defra group, we recently ran a campaign to encourage people to complete diversity, information. I, and other senior leaders, blogged about ourselves and our families, sharing some pretty personal stuff. Even I was surprised by the impact that had. People told me it's made them more willing to share their own information, and to be themselves at work.  Declaration rates for sexual orientation and disability increased by 11 percentage points.
The issue that people can feel most reluctant to talk about is mental health. Defra's mental health support network is called Break the Stigma for a reason. But we know that ignoring the early signs is very likely to mean that problems get worse. We need to break that cycle and make it a positive to talk about stress. That's only going to happen if everyone is prepared to make themselves vulnerable. So, what are you waiting for?
[Because of the level of interest and comment generated by this blog post, Clare Moriarty has written again to address some of the questions you have raised. You can read her response here.]