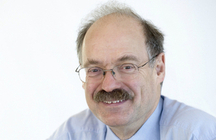 An important role for the Government Chief Scientific Adviser is to bring evidence from outside government into policy making.  My most recent project brought together experts to examine the extraordinary potential of distributed ledger technology.
A distributed ledger is, essentially, a database that allows all parties to see and keep track of who owns what assets - financial, physical or electronic. Distributed ledgers are updated and secured cryptographically, are low-cost, easily expandable and inherently difficult to attack.
Transformation potential
The first distributed ledger, 'blockchain', was invented to support the cryptocurrency Bitcoin. But the technology on which it is built has other exciting applications, with the potential to transform the delivery of public and private services. It could redefine the relationship between government and the citizen in terms of data sharing, transparency and trust, and make a leading contribution to the Government's digital transformation plan.
Distributed ledgers are already being used in a variety of settings, including to clamp down on the illegal trade in blood diamonds and to disburse international aid payments. In Estonia, they use them to register businesses and pay tax online – cutting bureaucracy and saving public money.  
The UK Government could play a global leadership role in identifying and trialling innovative applications for this exciting technology.
Protecting critical infrastructure
The best way to develop a technology is to put it into practice. Since my last blog on distributed ledgers, my expert group has scoped some potential uses by the UK Government. It suggests, for example, that critical infrastructure could be protected against cyber attacks by ensuring that its operating systems and firmware have not been tampered with. This could offer greater safeguards for bridges and tunnels.
Applying distributed ledger technologies in the registration and payment processes for government grants and benefits could prevent financial losses through fraud and error and support the most vulnerable citizens through full financial inclusion.
This technology could also enable the Government to create trusted archives of digital public records, ensuring greater transparency and accountability around the maintenance of those public records.
A challenge
These are just a selection of the possible uses – but they point to the many ways in which the technology could transform the business of government, making it more efficient and accountable to citizens.
My challenge to Civil Service leaders is to identify the most feasible and interesting opportunities for government to test. Matt Hancock, Minister for the Cabinet Office, and Ed Vaizey, Minister of State for Culture and the Digital Economy, are jointly leading work in this area.
Follow Sir Mark Walport on Twitter: @uksciencechief