The first One Civil Service Interchange Shadowing (OCIS) Week took place between 22 and 26 February. Fifty representatives from the Scottish and Welsh governments spent a week work-shadowing in 14 Whitehall departments.

The aim of the week was to build networks across Whitehall and the devolved administrations through shared learning and knowledge.

Louise Kay and Rob Holmes, from the Scottish Government and Welsh Government respectively, share their experiences of the week.
Louise
Louise Kay, Scottish Government

I found the week immensely useful for gaining an understanding of the ways colleagues in the governments approach their work and to see what it's like working elsewhere. It's surprising just how much you can learn in one day, or one week, when you sit down and chat face-to-face.  Work-shadowing is an excellent opportunity, especially for those who can't commit to a longer-term secondment.

I spent my week with colleagues in the Home Office, mainly with the Animals in Science team. The rest of my time was spent with colleagues who interact internationally to manage the UK's aid budget and work with European countries and international businesses, to address UK passport requirements on cross-border rail travel.

During the week, everyone attended a three-way Q&A with Permanent Secretaries Leslie Evans (Scottish Government), Sir Derek Jones (Welsh Government) and Philip Rycroft (UK Government).  They talked about the challenges raised by devolution and what, as civil servants, we can do to help the governments within the UK work together more effectively.  

One of the main aims of the week was to raise awareness of devolution in Whitehall and the opportunities it brings for intergovernmental working and knowledge exchange.

Many of the discussions I had with colleagues in Whitehall touched on the value of the outcomes-based approach of the Scottish Government and how this shapes policy making.  I found, having only worked in a devolved administration, that I gained invaluable understanding of how Whitehall works and the pressures on departments. It was clear there are shared values and common goals across the governments and this week provided a great opportunity to make contacts that will be useful throughout my career.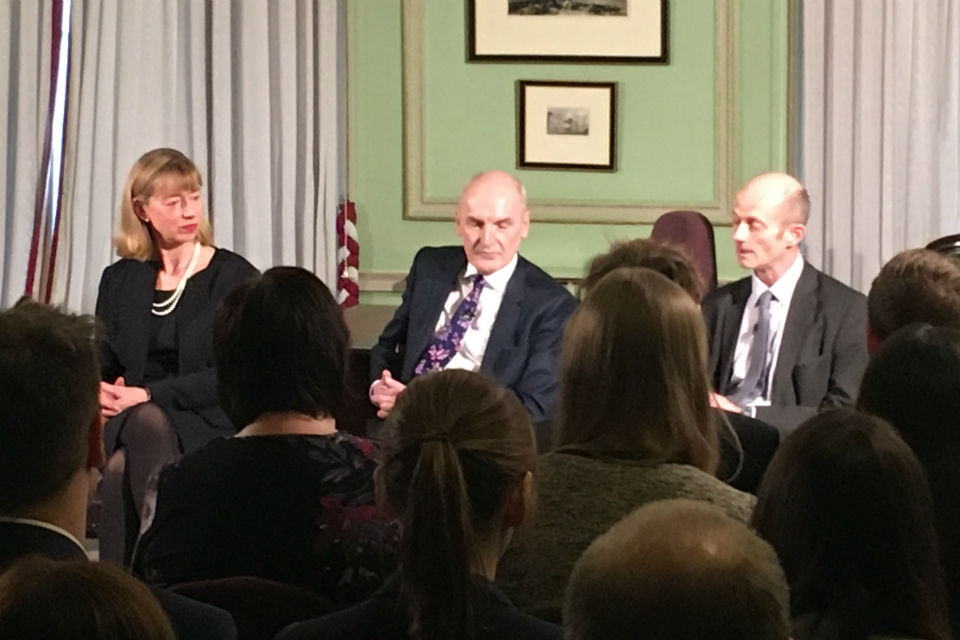 Rob
Rob Holmes, Welsh Government

Today's Civil Service is ever-changing, and with the growth of devolution it's important for us all to understand how this impacts on our work and careers.

Admittedly, I was slightly apprehensive that the programme would be too broad and lecture- focused. Fortunately, I was very wrong, the scheme was highly interactive and the Devolution Team within Cabinet Office tailored each participant's schedule to suit his or her background and preferences.  

My Welsh Government background is in private office and delivery, so I was particularly grateful for the shadowing opportunities in the offices of the Cabinet Secretary and Head of the Civil Service, the Chief Executive of the Civil Service, the ministers for Reserves and for Civil Society, and for a one-to-one with a private secretary in No. 10. Through these I was able to see at first hand how Whitehall operates. Everyone I met spoke frankly about how they work and, despite the different political ideologies of our respective administrations, civil service impartiality was clearly evident. And I was reassured that we are One Civil Service and can focus on sharing best practice, knowledge and contacts.

I also had the opportunity to meet devolution leads at the Ministry of Justice and Ministry of Defence. This gave me a fresh look at the challenges the MoD faces, not just with devolved administrations but in terms of the impact from other UK Government departments.

Part of the week involved workshops, including with the Territorial Offices. There were also useful tours, including to the House of Commons and No. 10, and these just topped off a well-constructed programme.

All in all, I found this opportunity immensely beneficial. It opened doors and created contacts, and broadened my understanding of the UK Civil Service today.
Louise and Rob's top tips for successful interchange
Ask yourself what you want out of your Interchange. During the application process, you can list your preferences and your desired outcomes. But be sure to think carefully about these - the interchange is designed to help develop your department as well as you and your career.

Be open-minded about different policies and ideas. You may be surprised by the challenges you have in common, and learn about different approaches to them. One of the most fascinating opportunities was to hear representatives from the Chief Executive of the Civil Service's office talk about his role, which I never really understood before.

Speak to everyone on the team. People working at different levels and on different areas will have different perspectives. Hearing what they have to say will help you understand better  the challenges they face and how they work.  

Remember to network within the cohort as well as your host department. And take advantage of the opportunity to interact with different governments and see how their approaches differ.

Save your contacts and be sure to follow them up - one of them could be of help to you in the future.

Bear in mind that colleagues are making space for you in their busy schedules and thank them for their time.
The Scottish and Welsh governments will be hosting One Civil Service Interchange Shadowing weeks later this year. If you are interested in taking part, contact your relevant interchange manager. You can find contact details in the One Civil Service Interchange section, here.
Follow the UK Governance & Devolution Team on Twitter: @CSDevoTeam