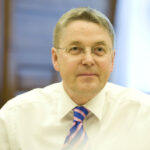 I recently had the pleasure of recording a video message congratulating Fast Track apprentices on their successful graduation. The two-year Fast Track Apprenticeship scheme was set-up in 2013, so this was the first cohort to complete the programme.
I have been hugely impressed with the enthusiasm and drive to learn and succeed that Fast Trackers have demonstrated. They bring a fresh perspective and energy to their teams, in a whole range of different roles: from work coaches in DWP, to administrative support in high-security prisons.
As I looked back at what the apprentices have already achieved, I was reminded of just how important the scheme is and why it has a vital role to play in achieving many of my key aims as Head of the Civil Service.
Widening access to the talent pipeline
It is essential that we attract the best talent, from as diverse a pool as possible, into the Civil Service. Indeed, building a diverse Civil Service that better reflects the society we serve is one of my top three priorities. And it is one of the main reasons we established the cross-government Fast Track scheme, providing talented young people from all backgrounds with a genuine alternative to university, and access to all the opportunities a Civil Service career has to offer.
The good news is that this is exactly what has happened. Of those who completed the scheme, 95% have passed their apprenticeship – a success rate all the more impressive given that the industry average for comparable schemes is around 70%. Since completing the scheme, some have already been promoted to HEO roles, and others have secured places on departmental talent schemes. Three of this year's apprentices secured a place on the graduate Fast Stream programme, something that previously could not have been done without a degree.
Given this overwhelming proof of concept, we have committed ourselves, as part of the Talent Action Plan, to doubling the number of apprentices on the scheme this year. I'm delighted that we have exceeded this target, and are now welcoming almost 600 new Fast Track apprentices into over 20 departments across government.
Developing specialist capability
Another of my top priorities is to ensure that all civil servants have the skills and capability they need to excel at their job. That means putting a structure in place that supports development and builds capability, particularly in those areas where we know the Civil Service needs to be stronger.
The Fast Track is excellently placed to do this, with apprentices being recruited to one of a number of specialist schemes. Since 2014, this has included Digital and Technology, which has long been a key area of focus. The Civil Service has already made huge progress in developing world-class digital services, and nurturing talent in this space from the very start of people's careers will be critical to continuing this success. And, in just the past few months, Commercial and Cyber Security Fast Track schemes have been launched. Their addition means that the apprenticeship programmes now collectively cover all the priority areas identified in our Capabilities Plan.
It is the combination of this specialist training, talent development, and the chance to succeed irrespective of background, that makes the Fast Track such a vital part of our talent pipeline. I am excited to see the impact Fast Trackers will continue to have, not only during their time as apprentices, but as they go on to become leaders in the Civil Service.