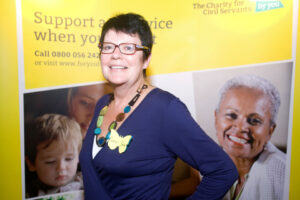 In the first part of this blog, I wrote about how partnership working has, literally, saved lives across the Civil Service, including within the Department of Health, Public Health England and the Department for Energy and Climate Change.
It doesn't matter who we are or where we come from – we all want to be heard, respected and treated with dignity. These are powerful components in life.  
But according to the World Health Organisation, the greatest cause of injury and bodily harm to women is domestic violence. Violence and abuse take many forms, including stalking, emotional abuse, coercive control and financial abuse. These types of abuse are often hidden, with people being threatened if they tell anyone what is happening to them and fearing the shame of how people will label them if they speak out. But if the right environment is created, people often feel safe and supported and will be more honest and up-front about the effect domestic violence may be having on their personal and work life.
Safety plan
When Esther* finally felt able to speak to Patricia*, a health and wellbeing champion at her workplace, about the danger she and her son were in – and had been in for many years – she was already aware that steps had been taken to ensure support and guidance were in place.
Following a department-wide announcement, the Public Health Responsibility Deal Pledge on Domestic Violence had been signed, and trained health and wellbeing champions had held workplace awareness sessions. When she heard Patricia speak, Esther felt that, at last, someone was finally speaking the words that were her life. As a result, when her partner later stalked her at work, her line manager, HR, Patricia and Security all worked together to create a safety plan so that Esther could remain safely in work.   
Difficult issues
The department's partnership with the Corporate Alliance Against Domestic Violence (The Corporate Alliance) and The Charity for Civil Servants meant that Patricia knew where to direct Esther for immediate help. As well as getting prompt access to the right agencies via The Alliance, she received financial support from the Charity to replace her damaged TV, change her locks and to bring her rent up to date.
Many people would think a TV might not be necessary – but sometimes, when people are traumatised, it is easiest to speak about difficult issues when they're looking at something else.  That TV made it possible for Charlie*, Esther's son, to speak for the first time about how he felt and what he wanted for himself and his mother. It provided a path for the right social provision to help them both to move forward as a family. This support continued when Esther's local council was able to offer her safe accommodation where, as a new tenant, she could start to put the trauma of the past behind her and her family.
Esther and Charlie said: "We're grateful for the help and support we received from the Charity for Civil Servants and the Corporate Alliance".
Kept safe and in work
The three-way collaboration meant Esther's workplace made the necessary adjustments as an employer, the Charity made essential financial support, advice and guidance available, and the Alliance worked with her employer and direct care providers to address her trauma. The result was that Esther's mental, physical and workplace wellbeing were addressed as a whole; she was kept safe from further harm and importantly – as a longstanding and respected employee – in work.
And if you'd like more information on how the Corporate Alliance can provide your workplace with tools and guidance to help staff experiencing domestic violence, you can contact Melissa Morbeck, Chief Executive, on 0203 683 0590, or visit the website: www.caadv.org.uk
Real names have been withheld