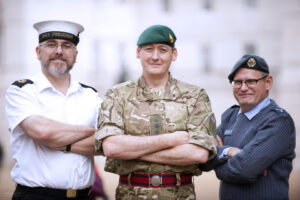 Over 20,000 men and women, including many civil servants, are already fully trained members of the Reserve Forces. The Reserves offer a variety of rewarding roles in the Royal Naval Reserve and the Royal Marines Reserve, the Army Reserve and the Royal Auxiliary Air Force, training and preparing to work alongside the Regular Forces. So, if you're thinking of taking a more adventurous turn in your life, learning new skills that will improve your employability and enhance your Civil Service career, why not scratch that itch and join now, rather than regretting it later.
To help you make up your mind, here are 10 surprising facts about joining the Reserve Forces. They're based on the questions civil servants often ask me, but if you have any others, please leave a comment below.
1. There's more to being a Reservist than combat roles
While there are a number of combat roles, the Reserves also offer all sorts of different and exciting roles across the three services. What's more, all these roles will help you develop new skills as well as enhance your leadership capability.
2. You don't have to stick to your Civil Service skills
Depending on what you decide to do in the Reserves, there are some roles that will match the skills you use in carrying out your Civil Service job. So, you can either join the Reserves to take a 'busman's holiday' or try something completely new.
Either way, there will certainly be a lot of transferable skills that will help you to develop both as an individual and as a civil servant.
3. The Reserves need women as well as men
The Reserves need recruits from all backgrounds. Most units recruit both women and men, and almost all roles are open to both sexes.
4. You don't pay for your uniform, equipment and travel
Your uniform and equipment are free of charge, and travel costs are reimbursed to you. Even better, you get paid to be a Reservist on top of your Civil Service salary and get an annual tax-exempt training bounty when you have successfully completed your training commitment.
5. You don't have to train every weekend
The time commitment depends on what type of unit you join. It can be as little as two weekends plus a two-week annual training period. If you can give more time, there are numerous ways of getting involved and most people don't find the training any more time-consuming than many other spare-time activities.
6. You don't have to use your holiday allocation for the 2 week annual training period
As a civil servant, your department will give you a minimum of 10 days special paid leave for the two-week annual training period – with some departments already providing a minimum of 15 days and others moving towards this in early 2015.
7. The Reserves aren't just for the under-30s
Reserves can be recruited up until they're 49, depending on the service and the role. And there are even higher age limits for professional and specialist applicants.
8. You can take part in the Reserves while your application is being processed
The application and enlistment process can take up to a few months. However, many units will allow you to carry out limited training during this time.
9 You don't have to be really fit to join
Many roles need only moderate fitness, and all training is progressive, so you will be helped to get to the required level over time. Some roles do require a considerably higher level of fitness, but again training is progressive.
10. You can change your mind!
It's easy to transfer to another unit if you fancy a change or move to another part of the country. Transferring between the services takes a little longer, and you can leave the Reserves whenever you want to if you don't enjoy it.
To find out more surprising facts about the Reserves and how it would benefit you and your teams, come along to The Reserves Experience at the Old War Office on Whitehall on January 28th and 29th. Register for a ticket now.