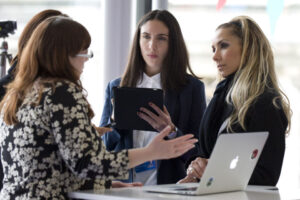 We are committed to building strong professional networks and to clearly communicate what we do. In November we took 3 major steps to address these 2 issues: we created a LinkedIn group, we joined Twitter and we set up a blog.
Government is required to be 'digital by default', but these steps may seem daunting to some of our members - particularly on issues around using social media in the Civil Service.
However, the potential of social media is too great to ignore, so we want to encourage all our members to get involved. Here is a brief description of our web presence and a top tip to enable you to use LinkedIn, Twitter and the blog without worrying.
Government Property Profession on LinkedIn
The GPP LinkedIn group is a forum for members to suggest ideas, ask questions, share knowledge and even advertise jobs. It is open to any GPP member and brings together people of every discipline, grade and department.
Within 2 weeks of going live the group already had 100 members, and discussions have begun about all manner of property issues, from construction to qualifications.
The group is a safe space and is private only to GPP members. We check all requests to join against our membership records before approving them, so you can be sure that anything you say will only be seen by other GPP members. This is the place to go to improve your network across government and to ask for and share specialist knowledge and expertise.
Top tip:
Complete your profile. One of the beauties of social media is the ability to put a face to a name. This will bring your network to life and keep it relevant. LinkedIn allows you to provide an extensive career history so you can tap into broader expertise.
Twitter
Twitter is the public face of the GPP. We will update the Twitter feed with news from the GPP and from wider industry. Some may use it as a way of staying up-to-date, but it is interactive too. Use it to keep us up-to-date with what you are doing in your organisation by tweeting @UKGovProperty from events you are taking part in. We can retweet you and spread the word to the GPP membership and beyond. We've already been retweeted by the British Property Federation and the British Institute of Facilities Management, reaching a potential audience of more than 14,000 people. So if you want to get GPP news out to the wider sector, Twitter is the way to do it.
Top tip:
Don't be shy. We're looking for GPP news to tweet every day. The aim is to increase awareness about every facet of the our work so please do let us know about anything of interest by contacting Rebecca Scott on rebecca.scott@cabinetoffice.gov.uk. There is no reason not to tweet about it if what you have to say conforms to the Civil Service Code and your Press/Ministerial Office guidance.
GPP Blog
Our newest venture, the GPP blog, hosted by GOV.UK Blogs, is a way of sharing more detailed information. It will be mainly of interest to the GPP community (even though it is public), as it is where we share news about developments for the GPP itself, including the activity of our Board and Head of Profession. However, looking forward we also wish to invite guest bloggers to write about what they are passionate about. Although there is the option to leave comments on most of our blogs, the best way to suggest ideas about anything related to the GPP is on the LinkedIn page. We can then discuss the challenges and opportunities of any ideas openly and extensively.
Top tip:
Embed your learning. Reading the GPP Blog counts as informal CPD provided you can prove it was relevant to your particular role. If you would like to read something specific, please let us know. Your interests are probably similar to other GPP members elsewhere.
If you have any questions or feedback about the GPP and social media, please do not hesitate to get in touch. The primary aim of our engagement with online tools is to enable easy communication between the GPP team and its members.