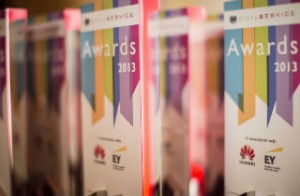 My name is Luo Nan, and I am a project manager in the Prosperity Programme Team managing Climate Change and Energy Projects at the British Embassy in Beijing. My role is to make sure that the projects we fund are successfully delivered and to work with colleagues to proactively develop strategy and project ideas.
Last year was a remarkable year for me as I was very lucky to be a part of the 2050 Calculator team that won the '2013 Civil Service Award for Analysis and Use of Evidence'.
The success of the project has been widely recognised both in China and the UK, but the 2050 team in China didn't know we were nominated until the shortlist had been revealed. It was a really nice surprise!
It was a privilege to be invited to attend the ceremony in London and I was very pleased with how much my work had been recognised. I realised how important the awards were when the Prime Minister made a surprise appearance on the stage. I was very proud as I think I was the only non-UK civil servant in the ceremony.
That evening, when I was standing in the hall surrounded by the other nominees, I really believed we were going to win. I had read the description for the Analysis and Use of Evidence category and it seemed to be written exactly for our 2050 project, so I wasn't surprised when we won! It was the best event I've ever attended.
The following morning, Britain's Ambassador to China, Sebastian Wood, announced our success to the whole Embassy which made our team and myself famous. We never thought the project would win an award. However, the award was not only recognition of the work of UK civil servants and the locally-engaged staff in DECC and the FCO, but also our Chinese partners who greatly enjoyed the glories, the trust, and openness attached to the award. The award tells us how much the civil service can make differences, both in this country, overseas, and worldwide. It also encourages others to be more ambitious and innovative.
The ceremony will be an unforgettable memory and something I can talk about for a long time to come. Behind the award is an enthusiastic and ambitious team and the most enjoyable period of my career. All experiences made me different, and I believe this will take me further in my career in public policy.