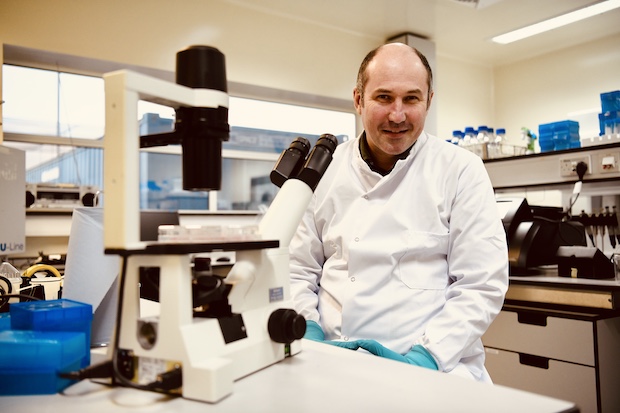 Professor Tim Atkins, a scientist at Wiltshire's Defence Science and Technology Laboratory (Dstl) spearheaded a remarkable drive to help protect frontline workers. 
The national effort to combat COVID-19 sparked an unprecedented cross-government scientific collaboration to protect the health of the UK's citizens and the Defence Science and Technology Laboratory (Dstl) has played a crucial role in this. DSTL is Britain's world- renowned laboratory, specialising in research into chemical weapons and fatal disease such as the plague and Ebola.
It's also the only place in the UK allowed to make samples of chemical agents. Our work is normally highly secretive, but when the pandemic began, scientists turned their efforts to tackling coronavirus, as our experts took up new, innovative roles, beyond the call of duty.
From the earliest stages of the outbreak, Dstl's expert scientific advice was sought at the highest level of government as well as the Health and Defence services. At Dstl, since Covid, our work was primarily focused on stopping the spread and understanding transmission of the virus.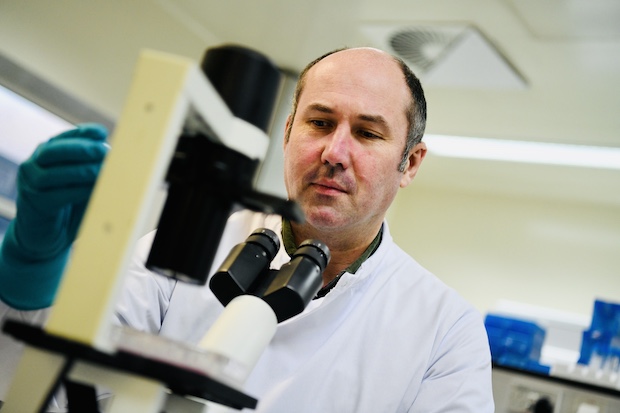 At its peak, some 680 requests poured in from across government seeking Dstl support, some of which needed an urgent response within hours. Our people were seconded across government, providing impartial scientific advice spanning research, operations, analysis, data modelling and much more.
Dstl's broad activities spanned numerous areas and so much has been achieved. Examples below illustrate the breadth of what Dstl teams achieved using our laboratories to support the UK's fight against COVID-19, all for the benefit of the nation. Here's how we made a difference.
Deploying Scientists to Public Health England's Regional Laboratories 
When demand for COVID-19 sample testing threatened to overwhelm hospital laboratories, Dstl scientists - with microbiology expertise - deployed to PHE laboratories around the country to help meet the government's coronavirus testing targets.
Both Dstl and PHE had previously worked well together, helping to combat the spread of Ebola in Sierra Leone in 2015. Now, working away from home for one week at a time, 25 Dstl staff deployed on 108 occasions over a 27-week period at the height of the pandemic, accelerating testing capability by a remarkable 8,000 hours in a totally different work environment.
Over this period, our staff contributed to the analysis of approximately 210,000 patient samples during early months of the outbreak from February to August.
Dr Jo Thwaite MBE, who was part of the team to be deployed said:
"The most challenging part for me was the switch from scientific research, when we studied live cultures of the coronavirus into clinical science.
"In research we usually have the benefit of planning," she said. "But in the clinical environment, you never know what's coming next until it arrives and you have to plan and prioritise on the fly.
The most rewarding part was leaving at the end of my shift, knowing that the prompt processing of the samples will have saved lives.

The samples aren't purely numbers, they all represented real names with real stories. They included patients on chemotherapy, a little girl awaiting a transplant, tiny babies that only have surnames to staff awaiting the all-clear to work on the wards. And although the days were extremely long, both physically and mentally draining, we all knew what a difference we made on our way 'home' each at night.
Scientists manufactured NHS Face Mask Testing Spray
Protecting frontline workers has formed a key part of Dstl's work for 12 months. When the Department of Health and Social Care (DHSC) faced a national shortage of aerosol sprays to test the fit of face masks for medics, they approached Dstl to help plug the gap.  
It's no secret PPE is essential to protect frontline staff. The face mask provides protection by fitting tightly around the face to keep the airborne virus at bay.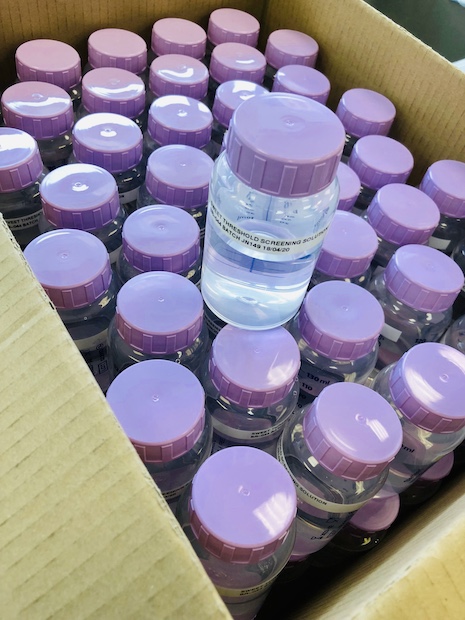 Each mask must be individually fitted to the user under a hood before a spray test is carried out.
Sprays are solutions that taste bitter or sweet. If the wearer cannot taste the spray while wearing the mask, it demonstrates whether the mask is properly fitted.
Due to a worldwide demand for the test sprays, Dstl were asked to produce the spray for use by frontline staff in UK health and care environments.
Despite not being a manufacturing organisation, Dstl rapidly sourced the ingredients for the test sprays in just two days. On day 3, chemists started production and delivered the first hundred test solutions in 100ml sterile bottles.
Staff worked in groups of four to deliver the manually intensive work, and Dstl bridged the national shortage.
I'm delighted that one of our team Dr Jamie Taylor was honoured with an OBE in recognition of this vital work. In extremis we manufactured more than 21,000 bottles of test solutions before handing the process to the UK industry.
Helping the Welsh Ambulance Service Slash Cleaning Times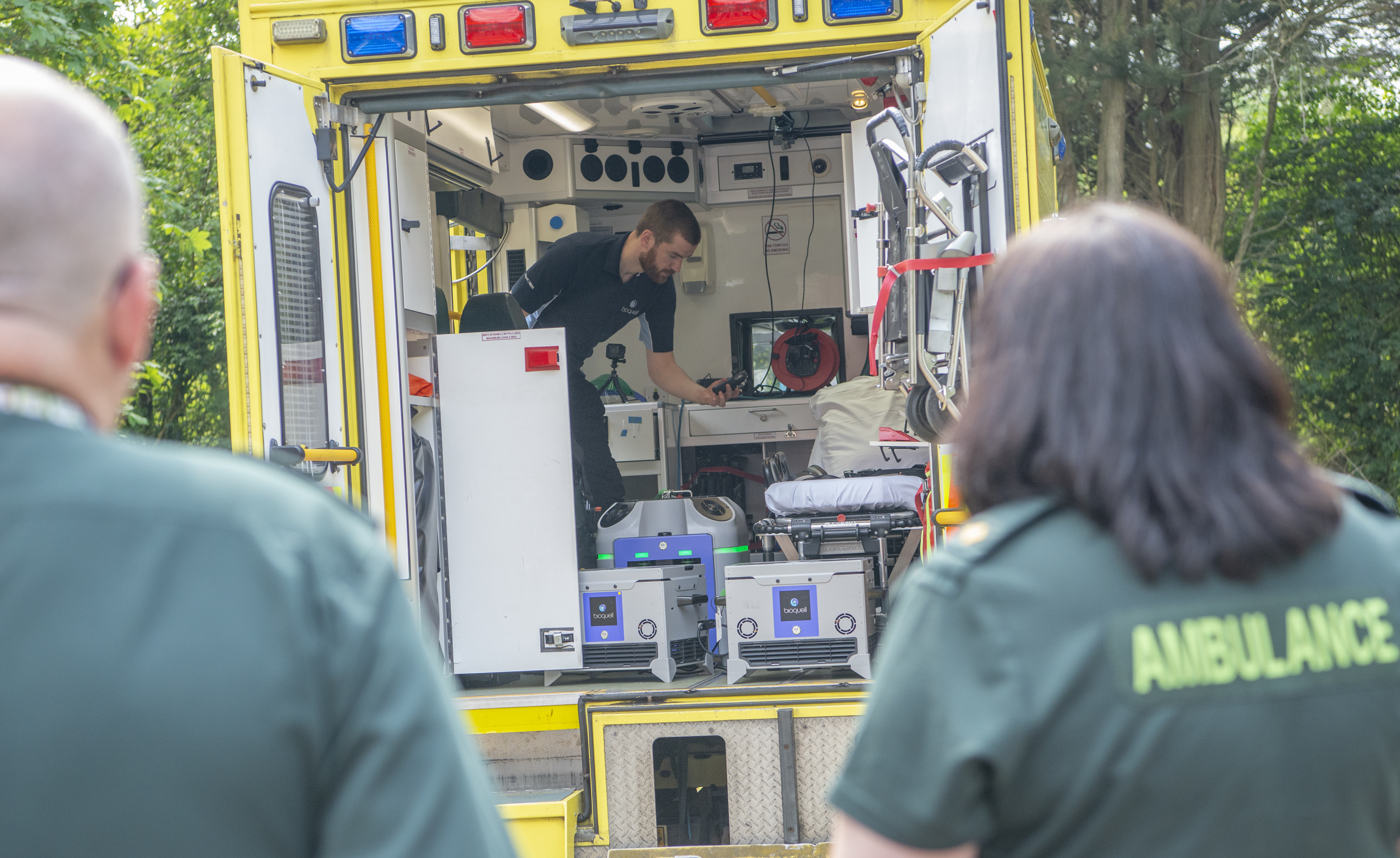 When the Welsh Ambulance Service reported that it was taking two crew using manual wipes 45 mins to disinfect the back of each ambulance, after they they'd transported a patient suspected of having Covid, we at Dstl knew we had to act.
Teams studied automated systems using aerosols and designed a new method to speed up the sanitisation of ambulances. In some cases, it dramatically slashed cleaning time from nearly an hour to around just 10 minutes. This not only helped get ambulances back into service much quicker, it potentially saved even more lives.
Scientists who created a Defence COVID Laboratory 
Dstl hit the headlines in 2018 when our scientists identified Novichok as the nerve agent used in the attempted murder of Sergei Skripal in Salisbury. Now some of those same scientists helped analyse Covid test samples. In doing so, they provided the Ministry of Defence with an independent COVID-19 testing capacity to avoid using national capacity at a time when resources were strained.
In just three weeks Dstl created a fully functioning diagnostics laboratory at our Porton Down site, using existing infrastructure and staff.
The facility was formed when Dstl joined forces with the uniformed Defence pathology community and rapidly achieved permission to perform the diagnostic tests.
The Defence COVID Laboratory is currently testing up to 500 samples daily, ensuring that personnel who need to deploy on urgent operations can be tested without the need to use NHS resources. As of mid-January 2021, more than 36,000 samples had been analysed.
Legacy of Salisbury nerve attack, built resilience
There's no doubt that Dstl's experience, gained during the Salisbury nerve agent attack and the year-long clean-up, provided valuable lessons applied during Covid.
Our systems and processes proved capable at dealing not just with the initial surge but also adapting to new demands, such as the creation of the Defence COVID laboratory. There's no doubt that COVID-19 has been unprecedented in scale and longevity and the burdens imposed upon people.
As an organisation Dstl has been remarkably resilient, continuing to deliver the critical tasks to protect the UK's defence and security. Inevitably, the load hasn't been spread equally as the burden of maintaining the Covid fight predominately falls on small, specialist groups.
Huge debt
It's important to remember these groups aren't limited to scientific staff. We also owe a huge debt to top teams such as managers, finance experts, contracting specialists and safety professionals.
Without their immense contribution we simply could not have delivered to the same scale. However, in military terms, these people have been "running hot" for many months, at a great strain. They are all pivotal to everything we've achieved, and have my enduring appreciation.
Deeply proud
I am deeply proud of everyone who worked tirelessly to deliver and support the national effort during this crisis. Whether it's protecting our citizens from Covid, or our soldiers from germ warfare, there's no doubt that the achievement of our defence scientists has proved a true game changer.
In terms of COVID-19, not only have our scientists made a huge difference in terms of saving lives, the phenomenal effort from Dstl will be required for many months to come, saving countless lives in future.