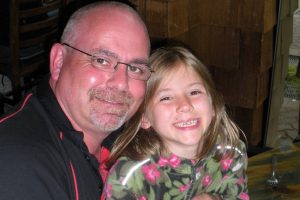 Man Up, Man Down – you are not alone
A little over 18 months ago my 18 year old daughter Libby took her own life. She had Anorexic Nervosa, Autism Spectrum Disorder and Borderline Personality Disorder. My darling daughter struggled every day and decided to end her life as she had lost hope. She felt she was saving herself and her family the pain of living through her illnesses.
This sounds like an all too common story – teenage girl with an eating disorder takes her own life… but it is not the most common story – this is …
Every two hours a man in the UK takes his own life. Suicide is the single biggest killer of men aged under 45 and accounts for 74% of suicides in the UK.
This startling fact suggests that men suffering with mental distress may not be receiving or asking for the help they need. Men often feel they cannot say they are depressed or anxious or considering taking their own life. This could be because of the influence of "macho" conditioning that tells men to "man up" and demands that "boys don't cry".
Most suicidal people don't want to die - they just want to remove themselves from an unbearable situation, and for the pain to stop. It's a decision made when other decisions seem impossible and they feel that other people will be better off without them.
Talking about suicide can save lives
My colleague Lucy Vallis, the Mental Health Lead for UK Visas and Immigration, writes: "On a warm summer evening five years ago my friend Dave took his own life - he was 47 years old.
"He showed warning signs – a loss of hope, a feeling of helplessness, a despair that couldn't be articulated. The following year, I took the Applied Suicide Intervention Skills Training (ASIST). Had I taken this earlier, I may have been able to prevent it. Talking about suicide is the single most important thing we can do."
Asking someone if they feel suicidal or are planning to end their life may not feel like the right thing to do but in fact professionals recommend asking direct questions about suicide.
Some people worry that this might indirectly encourage the person who is feeling suicidal to act on their feelings but research shows that speaking openly about suicide decreases the likelihood of the person acting on their feelings. The ASIST training teaches us to do just that #TALKSUICIDE  to save a life.
Suicide prevention training
My friend Debbie Pennington, a People Lead in the Office of Security and Counter Terrorism, recently used ASIST to help a colleague.
"I became ASIST trained about 2012, after losing my ex-husband to suicide in his 40s. His father, also in his 40s, and younger brother (aged 23) had died by suicide. Our daughter is now 25 and her father's death still has a huge impact on her life.
"Since being trained I have supported several men, who have not been able to see a way out of the darkness they find themselves in. However, if they are happy to talk, then there is a little window of hope.
"Dashing from one meeting to another recently, I passed a male colleague whom I knew vaguely. I said "Hi" and continued to walk, but I knew something wasn't right. I stopped and asked him if he was okay and he said he wasn't. He was reluctant to open up so I cancelled my meeting and stayed to talk to him. He told me that he had reached a point where he no longer wanted to live.
"We went for a walk, and spent the next couple of hours talking. When we parted, he wanted to go home to his family and agreed to take advantage of the support that was available to him.
"My ASIST training gave me the skills and the confidence to ask the difficult question, "are you thinking of suicide?" and provide the necessary support to help someone not lose his life to suicide."
World Suicide Prevention Day
We are raising awareness of suicide for World Suicide Prevention Day on 10 September.
Having suicidal thoughts is more common than you realise but talking about those feelings is difficult. Take this day to reflect and think about how you are feeling or how a colleague might be coping. Is there someone you can talk to about your feelings? There is no right or wrong way to start a conversation about suicidal feelings, but starting the conversation is the most important part.
If you're feeling suicidal please talk to someone, there is no shame. If you can't talk to a relative or friend, you can contact the Samaritans 24/7 on 116 123, your GP or your nearest accident and emergency department.
If you're worried that a friend or colleague may be suicidal then talk to them. Ask them directly if they have ever contemplated self-harm or suicide and encourage them to seek professional help. In an emergency call 999 for an ambulance.
ASIST training is available from a variety of external bodies including: