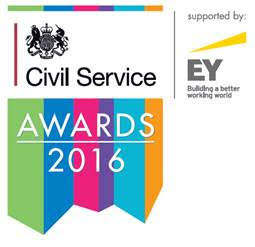 We're almost there, and it's been quite a journey - around 600 miles so far.
In the last four weeks, Civil Service Live has visited four UK cities - Glasgow, Sheffield, Coventry and Cardiff.
Now, we have set our sights on London, where CS Live will be held on 12 and 13 July.
A combined total of over 7,000 civil servants came through the doors at the first four venues. They have heard from Chief Executive of the Civil Service John Manzoni about the new vision for 'A Brilliant Civil Service' to meet the challenges we face now and in the future, including implementing the decision of the EU referendum.
And delegates - that's you - have had the chance to see and hear about new ways of working that will help us produce better policy and deliver better services to the public; as well as the opportunity to network and share experiences and knowledge with colleagues from across government.
If you haven't already registered for London, you can still do so, here. And don't forget to download the Civil Service Live app.
Below, for both new and existing registrants, you will find a selection of London sessions with spaces left, including some that illustrate aspects of the main themes of the new vision: Improved Outcomes, Effective Leaders, Skilled People, A Great Place to Work. You will find the full agenda for both days here.
London will also see the final of the Innovation Challenge - in which one team will win a trip to NASA Science Park for their work on a technological or digital innovation that will benefit the public.
We look forward to seeing you there for the grand finale of Civil Service Live.
Venue
Session
Time
London

12 July

Government Communication Service showcase, campaign highlights and case studies (session code: COMMS3)

09:15-09:45

London

12 July

Private Medical Insurance (PMI) (SPO14)

09:30-10:15

London

12 July

Delivering better personal outcomes in homecare (IMP8)

09:40-10:25

London

12 July

Creating a Fairer Scotland: the journey so far (IMP20)

12:00-12:45

London

12 July

Improving outcomes in public services - an NAO (National Audit Office) perspective (SPO15)

15:30-16:15

London

13 July

BREXIT & UK skill development: Where are we now and where are we heading? (SPO17)

11:50-12:35

London

13 July

Managing change with agility (EFL4)

11:55-12:55

London

13 July

The Internet of Things - Transforming Public Services (IoT1)

13:15-14:15

London

13 July

Improving outcomes in public services - an NAO perspective (SPO15)

13:50-14:35

London

13 July

Winner of Civil Service Live 2015 Innovation Challenge (IMP9)

16:05-16:50