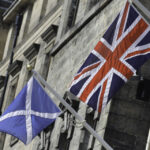 One of the best things about being a part of the Civil Service is the opportunity to be involved in initiatives that have a real effect on the lives of people in this country, as well as being at the heart of a very topical issue. A number of us in the UK Governance Group and the wider UK Civil Service have experienced just that, with the devolution of new powers to Scotland moving apace.
Following the Scottish independence referendum, all five of Scotland's main political parties came together as part of the Smith Commission and decided on a package of powers to make the Scottish Parliament one of the most powerful and accountable of its kind in the world.  The UK Government took this forward in the Scotland Bill, which was the first piece of legislation debated in the Commons chamber following the 2015 general election. It has since made its way through Parliament and, on Wednesday 23 March 2016, the Scotland Act 2016 received Royal Assent.
Moving at speed, from Smith, to a Bill, to an Act has been a challenge. We couldn't have done it without the support of colleagues across Whitehall, with ten UK Government departments leading on various clauses and their counterparts in the Scottish Government feeding in the views of Scottish ministers.
'Fiscal framework'
One of the key features of the Smith Commission recommendations were the future arrangements for the Scottish Government's finances once the new powers are implemented. It's called the 'fiscal framework' and was agreed on 23 February after talks between the two governments that began last summer. It's important because it means that, for the first time, more than half of the Scottish Government's budget will be funded by Scottish tax. The Scottish Government will have new borrowing powers, to be able to invest up to £3 billion in vital infrastructure. And the Barnett formula, which determines levels of public spending in Scotland, remains, extended to cover areas of devolved welfare.
It sounds complex – and it is, so it has been an excellent achievement by colleagues in HM Treasury to work with the Scottish Government's finance leads to support ministers in both governments to enable the deal to be agreed.  In fact, the implementation of the Smith Agreement has strengthened working relationships between the UK and Scottish Governments – an example of how teams across the UK civil service can work together to achieve good outcomes for citizens.
Historic achievement
The hundreds of policy officials, lawyers and other colleagues who have briefed ministers for numerous debates as the Scotland Bill went through Parliament, and supported the fiscal framework discussions, now have an opportunity to recharge batteries before the implementation work picks up. They can do so with pride at their committed public service, and I am sure they will not forget their part in delivering an historic achievement.
You can find out more about devolution by visiting Devolution and You and One Civil Service Interchange. 
Follow UK Governance and Devolution Team on Twitter: @CSDevoTeam