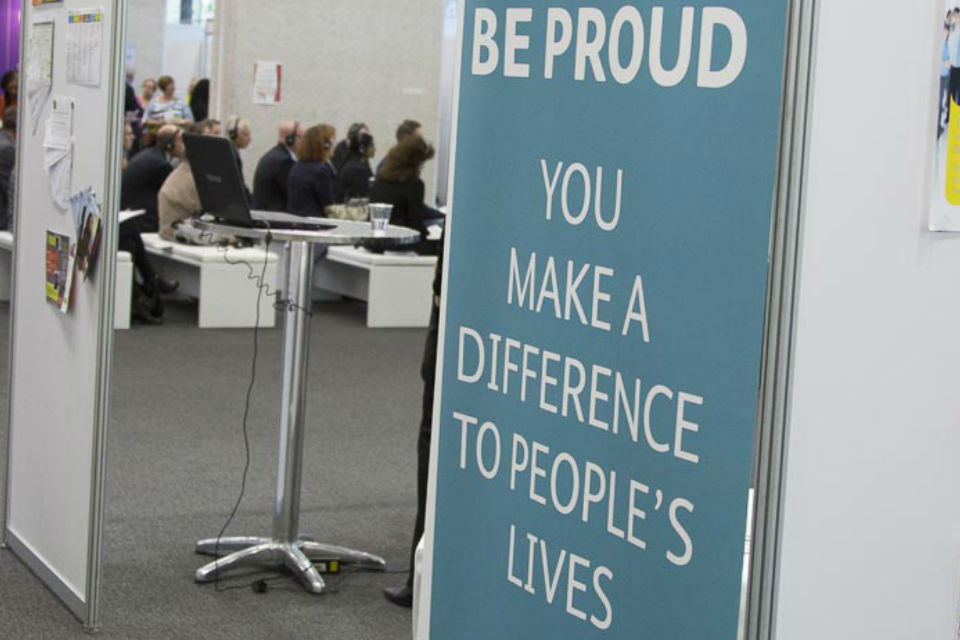 Operational Delivery is the public face of the Civil Service, covering over 70% of the organisation's workforce. This is every official who works to support and protect UK citizens and businesses at home and abroad. Their roles range from processing visas or driving licence applications to checking passports, supporting citizens in court, managing prisoners, collecting taxes or helping people find jobs and get the help they need to live their lives.
The 2012 Civil Service Reform Plan outlined the learning, development and reforms needed to ensure the Civil Service had the skilled people it needs to become more agile and focused on delivery and results.
This is all in a days work for many of the organisation's operational staff. But, in the past, many of those working on the frontline were often the last to be offered structured learning opportunities, being given instead just the technical learning necessary to carry out their roles.
For some, that amounted to little more than being told to read the large paper-based instruction manual they'd been handed on their first day in the job.
Any professional development beyond that - like long-term career planning, accessible learning and programmes tailored to meet individual development needs - was unheard of. Even, as the technology developed, with the launch of e-learning, frontline staff still found it difficult to find inspiring development opportunities when they needed them.
It resulted a poorer service for both our customers and staff alike. The Operational Delivery Professions (ODP) team is designed to change that, creating learning programmes that not only reinforce the capability of operational personnel across departments, but also help them to plan and progress their future careers.
As Ruth Owen, Head of the Operational Delivery Profession, says:
The job we do in Operations is vital to how Government services are delivered to every individual and business in this country. That is why it is so important that we develop as a profession – set high standards and support every member of the profession to be the best they can be.
So, how does that work in practice?
Operational qualifications
Firstly, it means giving people the opportunities and tools they need to bolster their skills and career choices, including providing access to a new curriculum of learning and development via Civil Service Learning.
This includes a range of internationally recognised qualifications in Operational Delivery. Created by the ODP team, these are City & Guilds and Chartered Management Institute accredited, starting at Level 2 (GCSE-equivalent) right up to Level 7 (post-graduate equivalent).
Each qualification contains a variety of units, covering everything from 'working in operational delivery' to 'planning' and 'leadership'.
These courses are open to operational professionals at all grades and departments, and the ODP team has worked hard to ensure they offer staff value for money compared to similar qualifications available externally.
The qualifications are knowledge-based and use work-based scenarios to reinforce students' understanding. They are also designed to be flexible, fitting round people's day jobs with online learning. Candidates can use these digital tools to submit assessments, complete tests, carry out learning and receive feedback at a time and pace of their choosing.
Working for departments and operational professionals
Over 3,000 staff members have signed up for these courses so far and the feedback from students has been incredibly positive.
A Higher Executive Officer at the Legal Aid Agency, studying for a Level 6 Operational Delivery qualification, said:
I have been impressed with the high quality of the qualification and the fantastic learning products and tools created by ODP.
A Senior Executive Officer, who recently completed their Level 7 Operational Delivery qualification, agrees:
It taught me new skills including planning and project management, which helped me to reflect on projects I had managed before and identify how I could do it differently in the future.
This support echoes wider industry research, where 80% of managers said that a CMI qualification is a key part of becoming a professional manager. And 93% of managers undertaking a CMI programme said they would recommend these qualifications.
Building on this success, the ODP team has just launched three new qualifications - developed with the Department for Work and Pensions (DWP), City & Guilds, Capita and Premier Partnership - that they believe will further develop their understanding of how to manage the delivery of services to customers and build their relationship management skills.
These are:
C&G Level 4 Award in Relationship Management (open to all staff)
C&G Level 4 Award in Managing the Delivery of Services to Customers (bespoke to DWP only)
C&G Level 4 Certificate in Managing the Delivery of Services to Customers (open to all staff)
And, again, frontline staff are seeing the benefits.
A DWP staff member, who completed their Level 2 Operational Delivery qualification said:
I have found the ODP e-learning straightforward, concise and relevant. That this learning leads to a qualification, recognised both inside and outside the Civil Service, is a definite plus and should be viewed as such for anyone, whether they are looking to progress here or elsewhere long term, or simply to improve themselves as a professional.
Looking forward, the team is keen to produce more bespoke work like this: creating new professional qualifications and/or training units, in collaboration with departments, that can bolster operational capability.
As Ruth Owen states:
Achieving externally recognised qualifications is a core part of our strategy for professionalising Operations. We want to increase the take up of our qualifications and ensure they are well embedded into the day-to-day work we do so that the learning also impacts on the service we give. I am very proud to be Head of Profession for Operational Delivery, and want that pride to be felt by every operational professional in the Civil Service too.
A trailblazing apprenticeship scheme
In addition, the ODP is focused on inspiring and training the next generation of operational delivery professionals.
During the course of this Parliament, the Government has committed to create 3 million new apprenticeships across the country. In response, the ODP team has created its own apprenticeship scheme to help future proof the Civil Service's front-line skills.
Nearly 500 new apprentices have signed up already this year.
Apprenticeships like this help motivate staff, increase productivity and strengthen the organisation's skills base. For young Apprentices, these schemes offer a sound foundation for their future career, mixing practical experience with high-level, internationally recognised qualifications.
Civil Service Surge Management and Rapid Response Team
But the work doesn't stop there. When crises strike, it's operational people who are called in first to help. That's why the ODP unit has established a new Surge and Rapid Response Team (SRRT). This is a game-changer in the way the Civil Service can respond to sudden surges in customer demand and/or unforeseen urgent events, which tend to require small numbers of people to support departments for short periods of time.
The ODP has already recruited 200 administrative officer apprentices to help pilot a team that departments can call on in operational emergencies.
This team is currently based at three locations: Longbenton (Tyne & Wear), Merryhill (West Midlands) and Peterlee (County Durham), working to specially designed employment contracts that enable them to be deployed quickly to anywhere in the UK or overseas and work flexibly on evening, weekend and night shifts, as needed.
The Surge Management Steering Group, led by Ruth Owen, considers requests for the team to respond to unexpected surges or critical incidents. And, so far, the SRRT have supported HMRC, the Home Office, Foreign & Commonwealth Office, DWP and Department for the Environment, Food and Rural Affairs.
Ruth says:
This is one of the most exciting initiatives in the Civil Service right now. We are testing new ways of working across Departmental boundaries and meeting the needs of very different sets of customers at times of peak demand. The team are demonstrating a high degree of flexibility and adaptability in their deployments, and we are still learning just how broad their remit could be.
Looking forward
The ODP team prides itself as being on the leading edge of professionalising the Civil Service. Providing new resources and changing the way in which the Civil Service operates in times of need are helping to improve services and also give ODP staff more professional transferable skills that can be used in roles across government departments.
The team are working to ensure that operational staff can take greater control of their own development and career path, gaining the recognition, opportunities and support they deserve.
Top priorities for the future include:
further testing of the surge management capacity and capability to better respond to peak customer service demands
developing and designing the future concept of operations in government, alongside the digital transformation already underway in departments
identifying and supporting talent in the ODP
supporting the Government's strategy to recruit 1000s more apprentices into government
continuing to support its members in career management, personal development and building their skills and expertise to enable departments to meet their delivery objectives
So, if you're an operational professional looking for a new challenge in the New Year, make sure you sign up to learn and develop with your peers – opening up a world of possibility for the future.
Discover more at Civil Service Learning: Operational Delivery Profession.