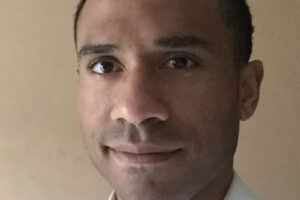 Civil Service Live is an opportunity for civil servants to learn, network and collaborate. As a new member of the Civil Service Leadership & Governance Team, that's exactly what I've been doing. At this year's Civil Service Live events I've been talking to civil servants of all grades, in different types of roles and organisations, about their experiences of leadership.
The People and Leadership theme throughout Civil Service Live featured many fantastic presentations and workshops.
It was particularly inspiring to hear from Detective Superintendent Theresa Breen about leading in the challenging environment of the Metropolitan Police. She spoke with real passion about seeing the effects of crime first-hand and how that shaped her approach to leading and policing in general. It reminded me of the importance of knowing why you come to work and how an inspiring leader can help you understand that. Theresa's clear purpose is a great motivator for the people she leads and the public she serves.
This was food for thought and I've been reflecting on it ever since.
Leadership Statement Competition
Reflecting and learning are important parts of improving leadership. That's why we asked people at CS Live to share their experiences of leaders and the impact they had by entering the Leadership Statement Competition. The winner from each CS Live event receives a mentoring session from a top leader with extensive experience in business or government.
The entries have been fascinating. It was particularly interesting to read real-life examples of how small gestures or changes in behaviour can have a big and lasting impact. There were lots of great entries, and we've chosen the most inspiring story from each event. We feel these best exemplify how everyone can learn from experience, acquire skills and make changes to become more inspiring, confident and empowering leaders.
And the winners are...
Newcastle - 10 September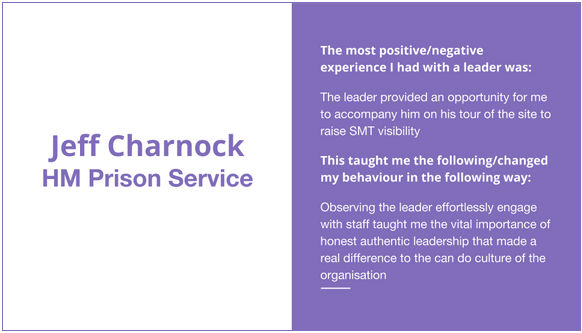 Jeff recognises how visible leadership can empower others and build leadership capability. He also hints at the scale of the challenge we face, and the importance of collective leadership in a Civil Service comprising many different organisations.
Manchester - 14 September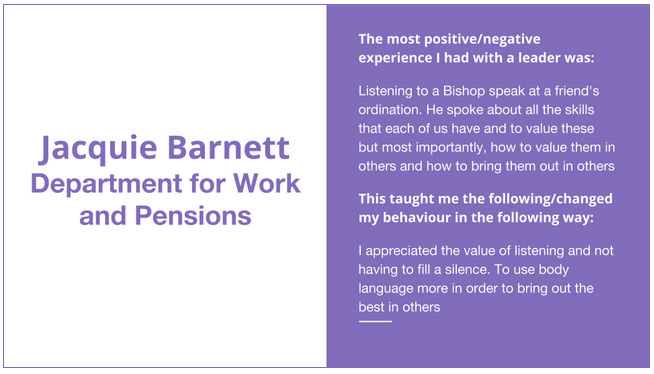 Jacquie showed how inspirational leadership can come from anywhere, encouraging people to modify their behaviour, often through small adjustments, to the benefit of others.
Bristol - 22 September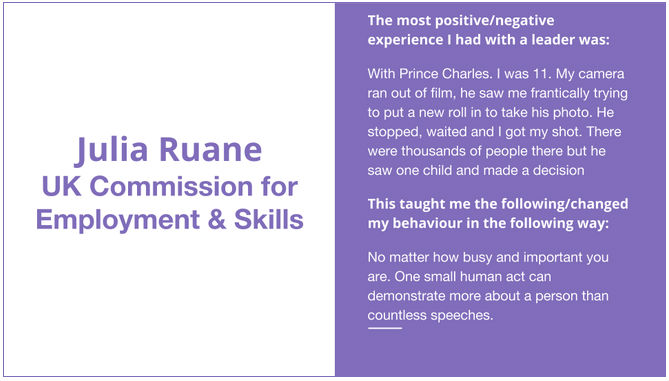 Julia's example helps us to remember the lasting impact of one superficially small but significant gesture. In this instance, that gesture is inspiring positive behaviour many years later, and reminds us that leaders' behaviour is always under scrutiny.
Edinburgh - 29 September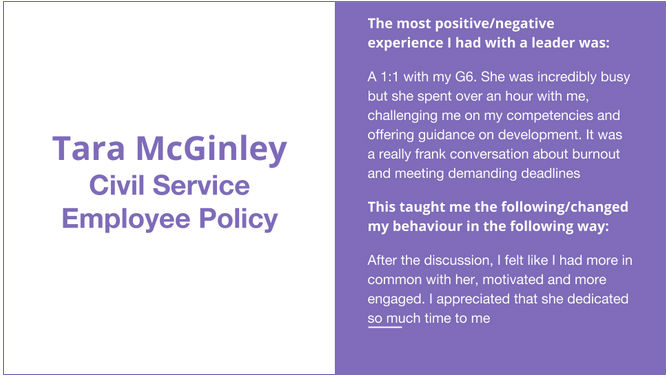 Interpersonal skills play a part in each of the behaviours in the Leadership Statement. Tara's example shows how good interpersonal skills can support confidence in engagement. When used to challenge people constructively, straightforward communications and clear and honest feedback can encourage individuals out of their comfort zone.
London - 5 October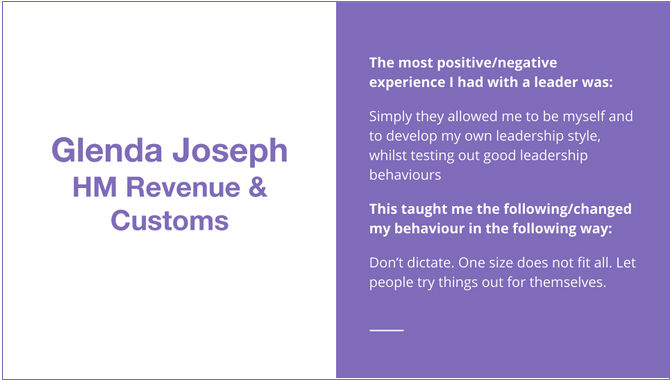 A big part of being a leader is to enable other leaders. Glenda's experience illustrates the importance of empowerment in this. Empowering behaviour can be uncomfortable, but people need to be given space to take risks, and this ultimately can inspire the confidence people need to be the best leader they can be.
London - 6 October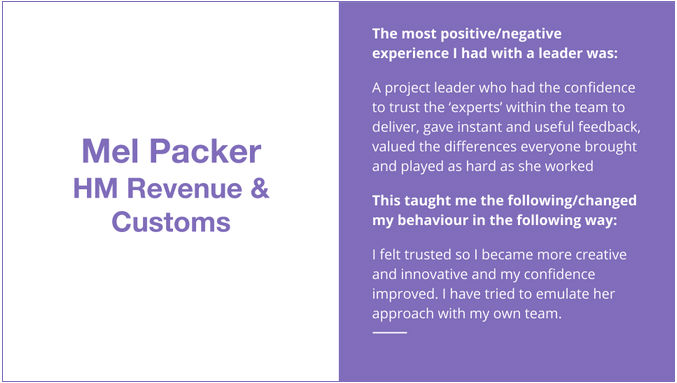 Confidence underpins so much of our behaviour. Working in a team with mixed knowledge and skillsets, it's important for leaders to build opportunities for collaboration. Leaders who recognise the value of all their staff  instill confidence in them, as this one did in Mel, and everyone reaps the benefits. Confident staff are more innovative, creative and all-round higher performers.  
Why not add your comment below to share with others how a positive role model has changed the way you work?