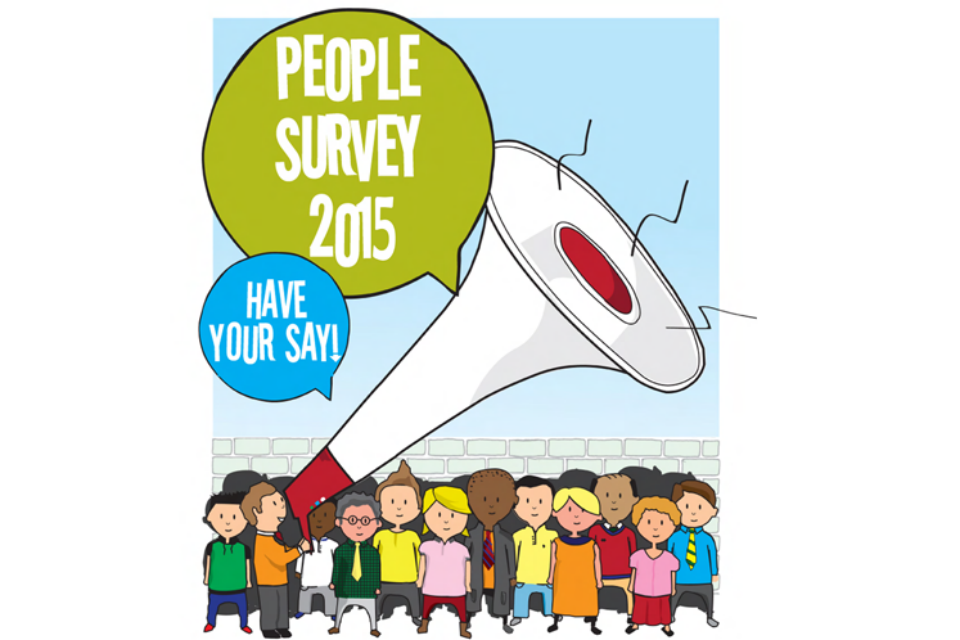 The 2015 People Survey is now open. As civil servants, this is our biggest annual opportunity to record our views about our jobs, how we are managed and led, how inclusive our organisation is, how we are paid and rewarded, the tools we use, and so on. It isn't just a barometer of opinion and sentiment but a real instrument of change.
Recent developments in the Civil Service have been driven in part by external factors such as the state of the economy, and the need to meet the ever-increasing aspirations and demands of the public we serve. Your views can support how reforms are implemented, but they also highlight concerns you may have about the impact of change, and tell us where we could do things better.
Where we are now
Civil Service employment has now fallen below 400,000 (FTE) for the first time since the Second World War, and demonstrates how much we have changed in recent years.
When I joined the Civil Service in 1983 there were:
653,000 civil servants

19,000 specialist and other typists

...but not a single female Permanent Secretary
The Civil Service of the 1980s prided itself on its political impartiality and its integrity, just as we do today (though our values are now enshrined in law). But there have been enormous changes in the culture of the service and the way we work.
What the bald figures don't show is what this means for the effectiveness of government. As I said in a recent blog, I firmly believe that a more streamlined Civil Service - more open and responsive and working more efficiently and more digitally - is literally giving the country more for less.
Some of you commented in response – "how do you know it isn't simply 'less for less?'" Fair question. But let's look at our record during the last Parliament.
Record of achievement
Civil servants up and down the country delivered virtually all (95% to be precise) of the 399 commitments in the extensive Coalition Programme for Government; and over the same period achieved around £20 billion of efficiency savings across government.
The performance of individual services underlies that overall picture. For example:
HMRC now spends considerably less collecting income tax: 0.83p per £ in 2014/15 versus 1p per £ in 2012/13

The cost of producing a passport has fallen

–

2010/11: £70.91; 2013/14: £57.71

Crime has fallen, despite reduced spending on the police, and the proportion of officers in frontline roles has increased to over 90%

The time taken to decide whether a child should be taken into care has virtually halved since 2011 – from 56 weeks to 29
In part, we have achieved this by applying new solutions to old problems. The UK is now a global leader in applying behavioural insights and evidence of 'what works' to policy development and implementation. Subtle 'nudges' in government communications have already improved tax receipts and increased organ donation registrations. And our example in digital government is being followed by countries including New Zealand and the US.
A headstart
These achievements are bound up with the far-reaching changes in the Civil Service to equip us for the parallel changes in society and technology. These demand we become smaller, more productive, more inclusive, more digital, more capable, more collaborative - without putting at risk our enduring values as an impartial Civil Service.
That we have met this challenge so successfully is hugely to the credit of all civil servants.
The next five years may well be even tougher than the last, with further reductions in expenditure to come. But we start from a strong position. Although much remains to be done, the Civil Service has a headstart in more efficient and innovative ways of working - getting more for less.
We will continue to reap the efficiency benefits of expanding customer-focused digital service delivery. We will sharpen the focus on the actual impact of government policies, trialling them so we can implement them better. Each department will set out a single, comprehensive delivery plan, with clear priorities based on how resources can be best deployed, identifying where they need to work with other departments and cross-government functions. We will continue to increase our capability in the crucial areas of digital, commercial, project management and leadership.
And we will concentrate on getting the best out of all our people, so that every civil servant, regardless of who they are or where they come from, has the chance to get on, make the most of their talents and build a fulfilling career in the public service.
Share your views
As the Civil Service continues to improve the way it works, it is important that we also take the time to listen to your views about what is working well and where things can be better.
The 2014 People Survey reflected a Civil Service that is an exciting place to work and where morale has held up under great pressure, underpinned by our undiminished commitment to public service.
So, I would encourage you to have your say in the 2015 survey. It won't take longer than 20 minutes. Check your local intranet or ask your manager for details on how to take part. We will look closely, as always, at the results and act on what you say about how we are doing and where you think we must improve.