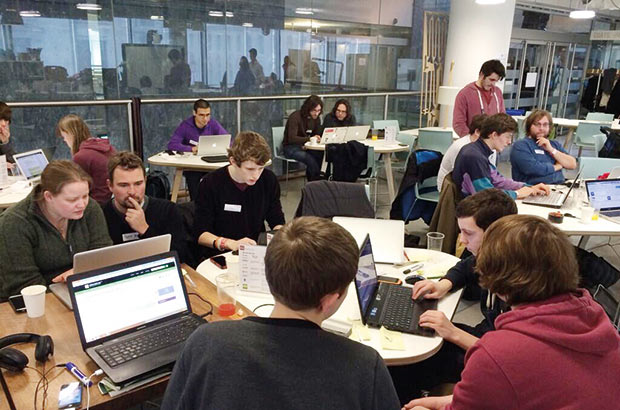 A hack is an event where people with different skills come together and collaborate for a short period of time on a project. Traditionally, they are rooted in the technical world, with computer programmers and others looking at some new software, for example.
But at Civil Service Live in London, Civil Service Learning are running a hack with a  difference – it's open to everyone and there's no need to have any techie or coding skills.
We want to get ideas from you on what makes great learning, to help us develop CSL's new digital service – and we also want to inspire you by demonstrating some truly Agile and user-centred methods of working. You will see us brainstorming, planning, prototyping and delivering real things, with Digital coaches on hand to explain everything.
So come along to our hack day on Mon 5th or Tue 6th October, and you'll have a great informal opportunity to do all of the following:
Share your ideas about improving learning in the Civil Service
Our vision in CSL is to get people fired up about learning – and we want to hear from you about what encourages and inspires you to learn. We're particularly interested in hearing about your best learning experiences – was it learning to drive? Water skiing? Juggling? Cake baking? Knowing what made those experiences so rewarding can help us shape our learning offer for the Civil Service – and our energetic and creative team will develop and prototype some of the best ideas, right then and there.
Test the prototype for a brand new Civil Service Learning website
Over the coming months we are redeveloping our website from scratch, making it far more user friendly and easier to navigate. Our user researchers are interested in your views on how you use the current CSL website and how you think we can improve that experience. We will show you where we've got to so far, and improve it further based on your feedback.
See an Agile team in action
We're working as a multifunctional cross-government team - developing your ideas, sharing how we do things, evaluating constantly, and focused on delivering without a hierarchy. It's an inspiring way to work. We will have people from Civil Service Learning, GDS, DWP, the Home Office and other departments who are bursting with enthusiasm and able to show how energizing and productive this work environment can be.
Fancy joining in?
Come along to Civil Service Live on Mon 5th or Tue 6th October – you can register here. Drop by to stand 133 anytime over the 2 days – no need to book. We'll respond to user needs by running regular sessions on subjects you're interested in, so rock up and set the agenda - we guarantee you'll learn something new. And if you've got existing skills in these areas and fancy mucking in, drop by and speak to one of the team -you'll be super welcome. Finally, be careful - you could become infected by the energy and productivity some of these ways of working tend to create!
We're looking forward to seeing you there!