The Civil Service is a member of the Business Disability Forum (BDF) and they have just published a document to provide helpful advice on how to manage difficult conversations. The guide is there to help us know when the time has come to act, how to get the basics right no matter what has triggered the conversation, improve our listening and feedback skills and enable us to handle tough conversations.
BDF have produced this document and I would like to bring it to your attention as Corporate Disability Champion because there could be a disability dimension to a difficult conversation. 1 in 4 people experience a mental health condition such as anxiety or depression at some point and many disabilities, for example diabetes, dyslexia and hearing impairment are non-visible.   We all need to understand how this affects us in our day to day contact with people and how it can influence our decisions without us realising it. And that is why in HMRC I have asked all managers to take the online Unconscious Bias training. Conversations regarding disability can be challenging for a variety of reasons and BDF have worked with lots of organisations to identify best practice. But this guide isn't just helpful for conversations relating to disability.
Throughout my career I've been in many tough conversations, both as a manager and with my manager. I've never found these conversations easy and I do not underestimate the courage it takes to have them but I believe that honest feedback and discussion are not something to be backed away from or ignored. In fact I believe that they are essential for development. I think the most important part of any conversation is to be clear in what you're saying and to listen to the perspective of the other person.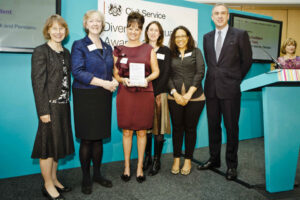 If we can get better at having open and honest conversation, we all have the best possible chance to develop to our full potential. A conversation is not a one way street and we must be willing to listen to feedback. Feedback can be positive or more focused on where we can improve but whatever it may be, it must always be factual and constructive.
Feedback shouldn't be about dwelling on an issue or problem but should instead provide a platform for improvement and problem solving. By encouraging someone to have their say and then working together, the best managers can guide tough conversations towards successful conversations. I encourage you all to take a look at the full document as there is lots more information and help available that I cannot do justice in this blog. I hope that you find it as interesting and useful as I did.