The British Civil Service is powered by women, who make up 53% of the workforce. But they take only 38% of leadership roles - greater female representation than on FTSE 100 Boards or in the Judiciary, but still not enough. Public service must reflect modern Britain and harness everyone's talents, as a matter of effectiveness as well as fairness.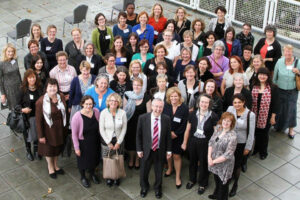 Gender imbalance has been a long standing frustration, and we are committed to ending it.
In November, BIS announced that 50% of our senior leaders were women for the first time. We have women working part-time at all levels, eighty five senior women executives, and successful job shares leading key policy areas. I wanted to share the story of our efforts to make gender diversity a reality. Not because I think we've cracked it, but because embracing diversity is a challenge we are all grappling with. We are grappling with it not because we should, but because we must.
In BIS, we started by focusing on the organisation's behaviours and values. Our mission is to connect people with prosperity across the country. How we do this matters as much as what we do. Each of our staff has to take responsibility for their role in facilitating economic growth. The world is changing fast, and we have to become as effective in social media and digital delivery as we are with traditional stakeholders and Parliament.
Clarity on our BIS values was a big step. But it wasn't enough to make the Department a better place to work, or an environment where women could really thrive. We needed to internalise the culture we sought to create, not leave it as slogans in the entrance hall. We needed to build a culture of real trust and less hierarchy, to get to the insights about what needed to change.
We started off by running a series of informal talks from successful women inside and outside BIS (and the occasional man, including me) called 'Have your cake and eat it'. We explored how these leaders had balanced work, family and other responsibilities, and, all too often, the unnecessary difficulties they had been forced to overcome by unsympathetic or complacent management. These talks boosted confidence and provided role models for our emerging women leaders. They underscored the need for an organisation which was not prepared to tolerate unacceptable behaviours when it came to diversity issues, and did not have a 'right' model for its leaders.
But we needed to do more, and on a more practical level. I began meeting small groups of women across the department informally. I talked about my own family experience, including a spell as a single parent with three young children, and how I'd had to fight to negotiate space in my career to be the father I wanted to be as I rose through the ranks. Telling my own story even in a neutral, safe space was an effort for me. I had to challenge my own assumptions about leadership meaning never showing weakness or vulnerability. But it encouraged the women I spoke with to share their own personal and sometimes deeply intimate concerns. I learned a lot more about issues which I thought I had understood. It was humbling to learn how many people manage complex and sometimes heartrending personal circumstances while being committed to their work at BIS.
But the most profound lesson I took away was not simply that we needed to make practical changes to better support women, but that I was running an organisation in which men and women alike did not always feel they had the space to share what was relevant about their lives with colleagues. This was impeding their ability to do their day jobs, and eroding their confidence in seeking promotion – and particularly affected women. This, of course, was a basic leadership challenge, not just for me but for all of us on the senior team. We had to show that we were people with our own lives, personalities and challenges. We needed to be more open as a team in order to forge an environment where we and our staff connected with each other with trust and honesty. Only then could we really ensure that the diverse personal circumstances of staff would be taken into account, because only then would we know about them.
These insights have helped us to make practical changes to the way we do things: keeping a closer watch on our female talent pipeline; finding supportive buddies for our staff balancing complex jobs and part-time hours; and rolling out unconscious bias training for all our senior managers. Having heard first-hand about the challenges of resuming a career after having children, we now offer all women in leadership roles returning from maternity (or other leave) a guaranteed 6-month job for however many days they want, which provides some with the "bridge" they needed between time off and the next big job, and helps us hang on to a lot of very talented staff.
Moving into this space is a challenge for BIS and indeed the whole Civil Service, an organisation whose culture is built on rigorous policy analysis and delivery, and a certain personal detachment derived from our place advising the government of the day, rather than bringing our own views into the workplace. To shift this culture, one of our tactics has been to build our ability to tell stories, to connect on a personal and emotional level as well intellectually. We have good stories to tell of the difference we make. And we have great people to tell them, each in their individual ways.
We are not anywhere near the end of the process. We still have a lot to learn and more trust to build. But my senior team and I share a sense that we are going in the right direction, that our conspiracy to permanently change the culture of BIS to become more open, confident and personal is paying off. Talented people who share our approach want to work with us, knowing no one becomes a senior manager at BIS without a clear commitment to extending diversity and building supportive teams. And across Whitehall, things are changing too. In 1996, just 17% of the UK's most senior Civil Servants were women. That proportion has more than doubled. We still have some way to go, but we are getting there.
With real diversity comes a more resilient and effective organisation, a place people can be themselves. We do a better job together.