This week the Chancellor revealed savings figures of £14.3 billion in the last financial year. MCO thanked civil servants for their hard work, and there's more detail about these figures in this handy video:
We also launched the Capabilities Plan Refresh today (13 June). This came with some fascinating blogs by civil servants on the frontline, including some brilliant top tips for managing change from Baljeet Mahal at London Bridge JobCentre Plus.
On the blog front, we had an insight into the Global Summit to End Sexual Violence in Conflict from Emma Hopkins, Head of Ending Sexual Violence in Conflict at the Foreign Office.
Our most popular tweets this week were:
The twitter Q&A with Paul is next week, so now is a good time to get your questions ready.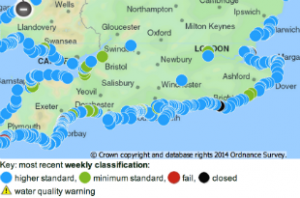 Finally, if you're heading to the seaside this weekend you can find out how clean the water is before you go with the Environment Agency's brilliant interactive data map.
Also, don't forget Civil Service Live starts in Bristol on Wednesday - see you there!
Found a link you think we'll like? Share it with us on Twitter: @UKcivilservice