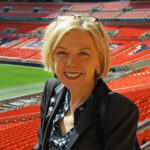 Sue Owen, DCMS Permanent Secretary, and Civil Service LGB&TI Champion
Sue Owen is the Permanent Secretary for the Department for Digital, Culture, Media & Sport (DCMS) and the Civil Service Diversity & Inclusion Champion and LGB&TI Champion. The Government Equalities Office is also located in DCMS.
Whatever problems you're having, The Charity for Civil Servants is there to help you, says Sue Owen.
Civil Service LGB&T champion Sue Owen talks about the recent Stonewall Top 100 Employers List, and the ways we're trying to support our staff.