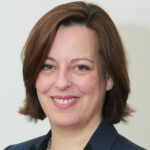 Melanie Dawes
Melanie Dawes is Permanent Secretary for the Ministry of Housing, Communities & Local Government. In April 2019, as Chair of the Civil Service People Board, she was appointed as the overall champion for Diversity & Inclusion in the Civil Service. She was previously Civil Service Gender Champion.
Follow Melanie on Twitter: @dawes_melanie
Having spoken at the FDA's Women into Leadership conference, Melanie Dawes looks ahead to rejuvenating our gender and women's networks.
Melanie Dawes looks back on what International Women's Day means for the Civil Service, and looks ahead to meeting these challenges in her role as Civil Service Gender Champion.