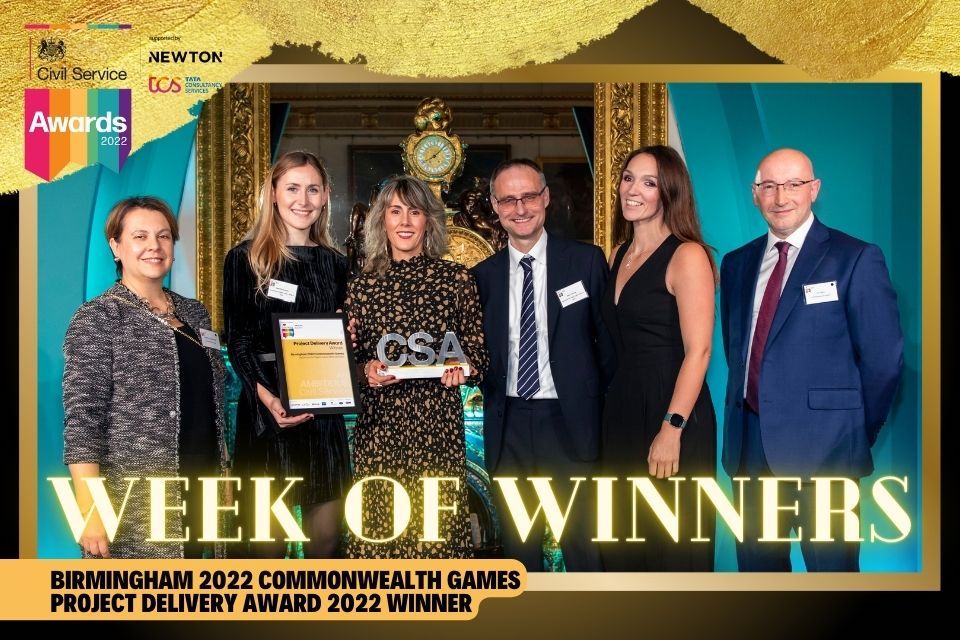 From street cleaning, stewarding, a scorching summer to security, the Birmingham Commonwealth Games Delivery Unit pulled out the stops to bang the drum and deliver the Games in Brum!
Having delivered a magnificent sporting spectacle on time and on budget, the 2022 Birmingham Commonwealth Games Delivery Unit were one of the worthy winners at this year's Civil Service Awards.
The chilly December weather outside Lancaster House, where they received their Project Delivery Award, felt a world away from the balmy summer weather of the Games when 4,500 elite athletes competed across 19 sports and eight para sports.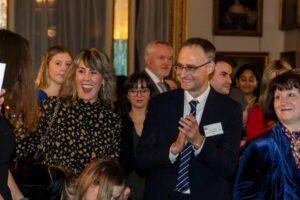 All the nominees met the Project Delivery Award's requirement of delivering complex work to a high standard, but it was the Games team that won on the night.
The Award aims to recognise skilled programme, project or portfolio management in line with the Government Functional Project Delivery Standard.
"On behalf of our whole team, this feels amazing," Maria Alexandri, head of sponsorship, said at the awards ceremony held at Lancaster House.
"We're really excited that our efforts over the last four years have been recognised. We are really chuffed."
Success was far from guaranteed when the Delivery Unit began their work with the Games just four-and-a-half years away, much closer than the usual seven-year lead-in time.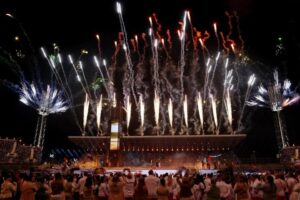 Global workforce and supply chain challenges, sweltering summers and wet winters - not to mention the Covid-19 pandemic - all had to be overcome.
 "The thing that really made these Games stand out was us working as a team across the public sector," Dean Creamer, Director of the Commonwealth Games, said.
"We worked together, as one team, to deliver almost certainly the largest event that has been held in the West Midlands."
In fact it took 60 functions, from street-cleaning to stewarding and security, to deliver what proved to be the highest ever attendance for a UK Commonwealth Games.
Lucy Stedman, head of the programme management office, said the moment she knew for certain that the Games would be a success was when she first saw local Birmingham residents getting involved and having great fun doing so.
"Everything we'd been doing had led up to that point," Lucy remembered. "It was having a meaningful, tangible impact on the city and the region. And that for me was priceless."
Long after the closing ceremony celebrated the region's cultural diversity, the Games will be remembered for having been the first to award more medals to women than men; for having left a carbon-neutral legacy; and for having seen more para sports than ever before.
For the 30,000 people who were at the Alexander Stadium for the closing ceremony, Ozzy Osbourne's surprise performance of the Black Sabbath classic 'Paranoid' will take some forgetting too.
Find out more about the awards and the nominations at www.civilserviceawards.com.