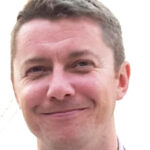 The subject of the latest in our series of interviews with leaders and managers around the Civil Service Leadership Statement is Thomas Cleaver.
Thomas supports the senior management team at UK Visas & Immigration (UKVI), which is responsible for making decisions about who has the right to visit and settle in the UK. He has worked with a group of volunteers called the People's Forum on programmes of Appreciative Inquiry and Continuous Improvement in leadership capability, addressing the results of the People Survey.
When did you first start thinking about leadership as a necessary capability?
It goes back several years. I attended a four-day intensive course about breaking down silos and giving people confidence to work together. Leaders are important to making this happen but often lack the confidence or skills. It's stuck with me ever since.
What does your team do really well?
My colleagues and I respond well to each other's ideas and we have a track record of acting quickly. We pool our resources by contributing skills, knowledge and experience, which allows us to act with a collective effort.
What is the biggest lesson you've learned from your role so far?
Take time to reflect. Through my involvement in the People's Forum I have learned the value in properly taking time to evaluate feedback effectively. It not only helps me understand our strengths but really helps me understand clearly what we need to do next.
Which point of the Leadership Statement do you think your team finds most challenging and why?
'Confident in our engagement'. As volunteers, we haven't been selected for this job because we have a track record of public speaking or presentation skills, we've had to try and learn them on the job. This means that we can find it difficult to get our message out face to face.
I think that we have been good at building relationships within our department, but have struggled with talking to other government departments. This is a challenge because we need to engage with other departments to share best practice and learn how others may have solved similar problems.
What has your team done to meet this challenge?
We started with the basics. We have regular meetings to standardise our approach and messaging. We held workshops on improving our communication. We wanted to properly plan the what, why , where and how. This helped us understand the most important step we could take to meeting this challenge, which is to know where to turn for advice and support.
We were visited by the Cabinet Office's Leadership team. They ran a discovery session on the Civil Service Leadership Statement and provided us with advice and materials to use the statement in UKVI. Maintaining the relationship with them and using their advice and support has been important in helping us meet the challenge of being confident in our engagement.
What have you done to improve your leadership skills in the last year?
Over the past year, I have improved my ability to empower my team to deliver, and I have learned to give people more space to let their ideas evolve. For example, through the People's Forum, we have created a Wellbeing Room. The idea for the room came about from the feedback we received through the departmental People Survey.
The Wellbeing Room is designed to be a calm, private space for staff to take time away from their desks and regain composure, use the resources to access help and speak to supportive colleagues.
The room has helped reduce short sick absences and improve collaborative working and productivity.
Feedback has been great. It's an example of how you can empower your staff by creating the right environment.
What's the question you would have most liked to have been asked, and why?
I'm always keen to talk about how you follow up the original messaging of the Leadership Statement. I think it's important the statement does not get lost or recede in importance. It can be easy for messages to get overlooked among all the other initiatives.
I think we need to embed the behaviours set out in the Leadership Statement so that they are natural to all civil servants.
I see leadership in everyone, in all grades. Leadership is not just about being a team leader or a line manager. It can be as simple as helping out a colleague when they're inundated with work or when they're upset. We can all demonstrate behaviours that will give confidence to the workforce.