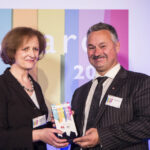 There are only 2 days left to nominate - if you know a team or an individual who has excelled in one of these areas, why not recognise them by nominating them for an award.
Winning an award and being shortlisted are both real markers of excellence, last year 15 awards were given out to teams and individuals and reflected a wide range of services and topics. All of the entries showcased the unparalleled breadth of the work we do every day in the Civil Service.
I have been reflecting on my own experiences of the Civil Service Awards and my key message is that it is not only about the winning; it's something everyone involved can be proud of. Whether a nomination is shortlisted or not, just the act of thinking about who you might nominate and writing down why that particular individual or team should be considered for an award is of great value in itself, because it generates conversations about best practices and encourages you to take time out of your day to recognise when someone has achieved something exceptional.
Those that do make it to the Awards Ceremony will have faced strong competition to get there and will enjoy a fantastic opportunity to celebrate their work. This year will of course be particularly special as the awards will be hosted at Buckingham Palace to celebrate the 10 year Anniversary.  Finally, winning a Civil Service Award has a long lasting and positive impact stretching well beyond that one night. I have seen awards displayed in offices and teams giving presentations on what it meant to be recognised. It's an opportunity for people to be real role models and pushes us all to strive for excellence.
I encourage anyone reading this who knows an individual or team doing outstanding work to get nominating. The closing date for nominations is Friday 7 August please don't miss this fantastic opportunity to showcase our good work across government.