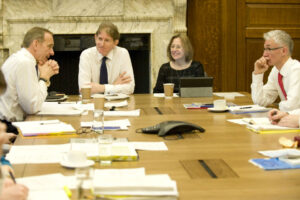 We recently published the Civil Service Leadership Statement and I know that Jeremy Heywood has been delighted at the conversation it has prompted. The three themes of inspiring, confident and empowering certainly resonate with me and are all relevant to HMRC as we look to the next round of challenges.
But agreeing the relevance of a framework doesn't make it easy to deliver on, and for me (still tingling from the helpful and challenging 360-degree feedback I read last night) the 'empowering' group is definitely in my 'future strengths' box. Our Australian Enforcement and Compliance Director, Jennie Granger added the phrase future strengths to our vocabulary.
Managers as 'interventionist'
I still recall a television programme many year ago when Professor (now Lord) Robert Winston was researching how parents help their children learn. He did a simple experiment of watching a parent and child work together on a task he'd set them. The task was to use an electronic toy to draw a house together. Each pair did the task and as a viewer we watched the process and looked at the results. The first pair produced a perfect house, square, four windows, floor and roof etc. The second pair produced a squiggle which if squinted at through closed eyes, had the early beginnings of a square shape and some windows in but without knowledge you might as easily have seen it as a strange prehistoric monster!
At the time I enjoyed a moment of gender superiority, because the perfect house was drawn by dad and child (or more truthfully by dad while child watched) and the monster was all the child's work cheered on by mum. But as I've become a leader of teams, I have to challenge myself as to whether I'm more like the 'dad' character than I want to be.
It's easy to justify a more interventionist style. The country needs a recognisable house, not a monster. We don't have the time to practice: I'll let them do the drawing when they're better at it. But the empowerment challenge of leadership is about fighting those tendencies and creating space for future talent to grow and develop. I know, within my team, that it's important that I give strong permission for people to wrestle the controls physically from me, as my character will revert to its more directive style. Internally, we try to allocate the normal Chief Executive roles more widely across the team, so many of our events are led by leaders from all across the organisation, formal meetings, whether ExCom or a staff dial in, are chaired by different members of the team each of whom brings different skills and approaches.
Building confidence
However, more importantly, we're trying to look at how we design jobs and challenge ourselves as to whether and why we take decision rights too high up the chain. Ruth Owen (Director General for Personal Tax) has done some great work with all her call centre folk in our 'once and done' project, getting our frontline teams to consider and change processes. HMRC has used a continuous improvement process, which we call Pacesetter, and using those basic skills, but also empowered by the confidence that that Ruth will support them, the teams have come up with hundreds of simple and effective changes. The results are improvements for customers, efficiencies for HMRC and a great sense of value and purpose. If you want to know more, read about it here.
As for me, well I'll keep striving to be less interventionist and thinking about that perfect house versus that prehistoric monster.