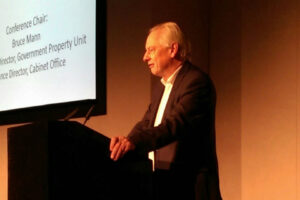 On 4th February, Francis Maude spoke at Government Property 2015: The next 10 years about the work of the Government Property Profession. "Our goal" he said, "is to be a leading organisation in the eyes of property professionals in both the public and private sectors".
He also announced that continuing professional development (CPD) will be compulsory from April 2015.
What this means is that all members of the GPP, irrespective of membership of a professional institution, will need to ensure that they are actively seeking to improve their knowledge and skills in their chosen discipline.  It will be the line manager's responsibility to ensure that this is done. As Head of Profession, I will looking for evidence of this as part of talent management reviews.
At the same conference, I unveiled the new online portals that are now available to GPP members in partnership with the Royal Institution of Chartered Surveyors (RICS) and the British Institute of Facilities Management (BIFM).
The GPP team has been working for some months to develop a good working relationship with RICS and BIFM and these portals mark the beginning of what we hope to be a long and fruitful partnership with these two leading professional bodies.  Building on this initial work we will be engaging more closely with them to make available best practice information, news, updates and discounted access to learning and development interventions. In time we hope to also engage with other relevant professional institutes.  Those signed up to Civil Service Learning can now access the portals in the GPP section of the CSL website.
Strong functional leadership
The work of the Government Property Profession is part of the government's wider work to strengthen the Civil Service's corporate centre by embedding strong Functional Leadership. Property is recognised by John Manzoni as one of the 8 functions across government.  One of the responses to this initiative has been the consolidation of over 100 government organisations into 8 cluster groups so that property strategies and resources can be shared.  Each cluster will be led by senior representatives who now sit on the newly-formed Property Leaders' Board.
At the heart of strong functional leadership is high professional capability. The Property Leaders' Board will now regularly discuss and feed back on the policies put in place by the GPP Board. They will share in the GPP's ambition to embed effective talent management and provide appropriate learning and development.
We are also launching the new GPP Competence Framework, which has been updated to include all of the disciplines represented by the GPP membership. This provides the high level descriptors of roles and responsibilities and can be used for restructuring exercises and for recruitment exercises.  This will be followed in due course by specific standards and skills relating to each discipline.
To end where we began, with Francis Maude, Minister for Cabinet Office:
Through these actions we're delivering a clear signal. We're saying that property is a profession that we take seriously in government. We value these skills, we need these skills, and if you have the qualities we need then there are fantastic career opportunities available for you in government.
This is a work in progress for our young profession but we are putting in place some strong foundations.  The Government Property Profession is also about you. GPP members should feel confident and engaged at work, aware of their opportunities and their career options. I hope that you will take advantage of the development offer that will be rolled out over the next few months.
As always, we welcome your feedback. Please get in touch via gpp@cabinetoffice.gov.uk