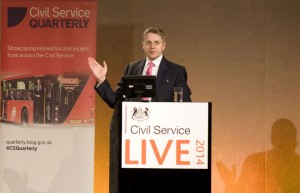 When we started Civil Service Quarterly (CSQ), the core aim was to showcase excellence across the Civil Service. The 7th edition is no different. It draws attention to some of the tools, approaches and initiatives that make the UK Civil Service one of the most innovative and open in the world – from HM Revenue & Customs' (HMRC) use of data science to streamline its non-compliance interventions, to the transformation of A&E departments through NHS England's partnership with the Design Council.
This edition of CSQ also highlights that we need to build on this strong track record and go further. For example, David Halpern's article 'What works? The rise of "experimental" government' makes clear that innovation needs to become completely embedded in our day-to-day work, and not be confined to new, discrete initiatives or programmes. Demonstrating how a more robust use of evidence can become a transformational tool, he challenges us to evaluate and adapt our practice on a continuous basis.
I've spoken frequently about the need to open up the Civil Service to greater collaboration and challenge. Two different approaches to this are explored in this edition: 'From Whitehall to hospital ward' makes clear the benefits of equipping Department of Health (DH) staff with genuine frontline experience, while the value of embedding outside experts in the Department for Education (DfE) is the subject of 'Raising the bar'. I hope that you will also take the opportunity to be a part of this drive for wider collaboration and challenge by leaving feedback on the Civil Service Quarterly blog, or discussing the issues raised using #CSQuarterly on Twitter.
By sharing their experiences and insights, contributors to CSQ are helping to create a more open, innovative, reflective and capable Civil Service. I want to thank the Head of the Civil Service Policy Profession Chris Wormald, and the editorial board, who read all of the articles submitted for publication and select those that will be of most interest and value to people across and beyond the Civil Service. I also want to thank the main contributors and those who supported them for this edition: James Harrison and Ben Merrick from the Ministry of Defence; Nicole Berry and Bridie Tooher from DfE; Jonathan Athow, Claire Potter and John Lord from HMRC; Mark Grimshaw and Owen Pye from the Rural Payments Agency; David Halpern and Danielle Mason from What Works; Jo and Jeanette in GCHQ; Catherine Makin from the Design Council; Miles Ayling from NHS England; and Peter Howitt, Katie de Wit and Lucy Zarbal from DH. It is a real achievement to get an article published in Civil Service Quarterly.
If your team is keen to put forward an article, please get in touch with the CSQ editorial team at csq@cabinetoffice.gov.uk.