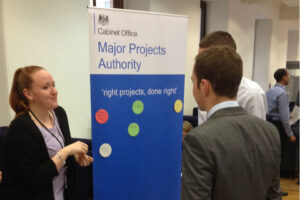 Improving project execution across government is an integral part of Civil Service Reform. At the Major Projects Authority, we recognise that an important part of this is developing a strong Project Delivery Profession. So, we have made the profession one of our top priorities.
As Acting Government Head of Project Delivery Profession, I am responsible for building and developing the profession across the Civil Service. In this blog I would like to set out:
my vision for the profession
what I mean by 'Project Delivery Profession' and 'professional'
the approach my team are taking to deliver the profession
what's next…?
The vision
Project delivery is about change. It's about getting things done to help transform society and the way government works, through a diverse and exciting range of projects: from new hospitals or rail networks, to innovative IT systems and transformational change.
Projects require substantial investment. The total cost of the Government Major Projects Portfolio (GMPP) alone is about £500 billion, and there is huge potential to deliver these projects more efficiently and more effectively. Having highly skilled and motivated project delivery professionals will help us to do this.
By building a community of project delivery professionals, we will:
attract and retain the best individuals, providing a rewarding career that supports continuous professional development
provide cost-effective, skilled, flexible project delivery professionals for departments, enabling them to implement policy effectively
improve delivery of (large and small) projects for the benefit of society
The Project Delivery Profession
The profession has the following core elements:
strong, inclusive, effective governance
a defined structure - with clear roles and capabilities, competencies for specific levels and roles, and career paths
a growing body of knowledge, ranging from the theoretical to the sharing of experience and good practice, and a curriculum comprising generic courses and hands-on learning and accredited or validated qualifications
thriving communities of practice, with networks promoting collaboration, sharing best practice, advice and support, and informing strategies
The project delivery professional
A member of the Project Delivery Profession will have certain characteristics and demonstrate behaviours including:
meeting our standards
being an expert or training to be an expert
undertaking continuous professional development
a sense of public duty - working and applying their knowledge in the best interests of the government and the public
abiding by the code of ethics
Our approach to making this happen
Each department has a Head of Profession for Project Delivery and we are working together to set our strategy and implement it across government. Many departments have already developed, or are developing, strong project delivery communities; and we will share good work and innovative ideas across the Civil Service.
Over the next few months we will be developing and sharing the talent management strategy, job profiles, career paths and competencies – all crucial to helping project delivery professionals understand the opportunities that are open to them and develop their expertise.
What's next…?
In my next blog I will describe our work in more detail. For now, I encourage you all to find out more by contacting your departmental Head of Profession or centre of excellence for project delivery and to learn about project tools and techniques on Civil Service Learning. Project delivery skills are important to everyone in the Civil Service, not just the project delivery profession.