In Wales this year 140,000 people will experience domestic abuse. 34,000 people will be sexually abused. Others will be subjected to stalking, Female Genital Mutilation, forced marriage and so called "honour" based violence.
These are stark figures which demonstrate the daily reality of gender-based violence, domestic abuse and sexual violence. Of course, this isn't just happening in Wales, but across the UK.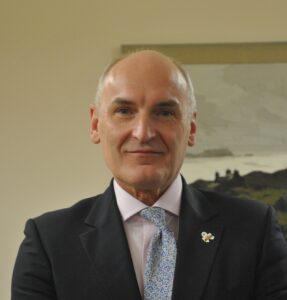 In Wales, we are tackling this in part through some innovative legislation with a new Welsh Government Bill currently going through the Assembly. But this isn't something that just happens 'out there'. Domestic and sexual violence can happen to anyone – including civil servants. It's clear from the feedback we received during the early stages of Bill development that the workplace is a crucial and rare place of safety for many victims.
As an employer of 6,000 people, I know that there will be women within my own organisation who are suffering from some of these crimes in silence. That is not acceptable and it's why I've become a White Ribbon ambassador and why the Welsh Government civil service has gained accreditation as a White Ribbon organisation. Anyone reading this from my own organisation will know that I am not a natural blogger – I tend to stick with a weekly bulletin and video diaries. But this is an issue that matters for the whole civil service so I am grateful to Jeremy for the opportunity to write a guest blog on this site.
Although anyone can be a victim, the great majority are women; and the great majority of perpetrators are men. The UK White Ribbon campaign therefore encourages men and boys to become involved in combatting domestic abuse and violence against women; and to act if they have any concerns. It also offers an accreditation scheme to employers who want to help managers recognise the signs of gender-based violence and domestic abuse and do all they can to support employees experiencing it.
Today is International White Ribbon Day.
If you are affected by any of the issues raised in this article you can ring:
The All Wales Domestic Abuse and Sexual Violence Helpline: 0808 80 10 800
The National Domestic Violence Helpline: 0808 2000 247