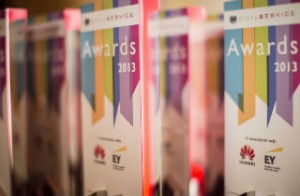 There are only 3 days to go until we find out whose outstanding work is going to honoured at this year's Civil Service Awards.
This year we had a huge 695 nominations across the 16 categories, so it's a real achievement just to make it onto the shortlist. 51 nominees in total have been shortlisted and will be attending the awards ceremony, taking place at the Foreign Office's Lancaster House in London on 19 November.
We spoke to a few of them about how it felt to make it this far:
My team has been shortlisted for the Innovation Award this year, which came as a complete shock to us as we didn't know we had been nominated! I am really proud that the work my team and I have been involved in has been recognised in this way. This nomination demonstrates the work we do every day is valued and it makes it all feel worthwhile. I am proud of my team and the fact they work tirelessly to support the Troubled Families programme, and this nomination is the icing on the cake!
Lynn McMahon, The Troubled Families Team, Department for Work and Pensions
Nominated for: The Innovation Award
We have been nominated for the Excellence in Civil Service Reform Award in response to the cross government programme of activities we have developed to deliver services differently to vulnerable citizen groups. We are absolutely delighted and very proud of everyone who has worked tirelessly, sometimes in their own time, to make this idea and concept a reality. It's a programme that embodies all the aspects of the reform agenda and translated them into something real that brings great benefits to staff and Citizens alike in our locality. Everyone involved in our programme speaks passionately about being re-energised, motivated and extremely proud of being able to make a direct difference to our citizens.
Kathie Bates, Civil Service Local North West
Nominated for: The Excellence in Civil Service Reform Awards
It is a huge honour to be nominated by my managers and shortlisted by the panel. You do voluntary work because you want to and because you are passionate about it - not for reward. But it is great to be recognised and to hopefully highlight the benefits of what volunteering brings to you as an individual. You think you are giving your time- but then realise you gain so much in doing so - experiences, contacts, friendships, skills and training! All this then seeps into your working life and you can use the skills you learn from volunteering into your working life... I feel as a civil servant that I can make a difference - and being a Public Sector worker means we are working for the Public.
Leanne Hugglestone, Department for Business, Innovation and Skills
Nominated for: The Voluntary Award
We were nominated for this award by Antonia Romeo, our Director General. Antonia did let us know that she had nominated us for the award – but we were all thrilled when we found out we had made the shortlist! The Justice Data Lab is a new service within the Ministry of Justice, having been set up 18 months ago. The recognition for our new service at such a senior level, and across Government too, is something we are really proud of. When we first set up the service, it wasn't clear whether we would be able to make a success of it but this brings home to us how much we have achieved. Civil servants really have an opportunity to make a difference in all aspects of public life; each of us in the Justice Data Lab team are proud to have had the opportunity to work on something so innovative, that can really make a difference to those organisations that we have worked with.
Nicola Webb, Justice Data Lab, Ministry of Justice
Nominated for: The Analysis and Use of Evidence Award
My team – the Beijing Embassy Communications Team – have been nominated for our engagement with China's enormous and active social media community through the Prime Minister's visit in December 2013.  China, with its state-controlled media, is a difficult place to do government-level communications.  But this means that online channels are much more credible and popular.  We set up a weibo (China's Twitter) account for the PM to allow him to communicate directly with Chinese audiences.  This provoked a hugely positive reaction.  Our front page was viewed 1.33 million times and our hashtag #Cameron in China (#​卡梅伦在中国) used in 630,142 weibo posts within one week.  Each tweet received over 15,000 comments. The most popular was the one asking people to submit questions for a video Q&A – read by 19.6 million people and over 20,000 questions were submitted.  The video of the PM answering was watched over 20 million times.  The PM's Weibo was reported widely across both domestic Chinese and international media as an innovative exercise in public diplomacy. Even the government mouthpiece China Daily praised our approach, saying "It would be useful if foreign political figures followed Cameron and studied his team's efforts to carry on effective conversations with Chinese followers.
John Gallagher, British Embassy Beijing
Nominated for: Communications Award
We have been shortlisted for the Commercial Award – it is really pleasing to be recognised given the innovative approach to the commercial proposition and evaluation of such a large franchise which impacts a significant number of people's lives every day.

It was a result of the hard work of a large number of individuals across Rail Executive who contributed to its success, and a great example of a team effort, where everyone was focused on doing the right thing for the passenger and restoring confidence in the franchising process after the pause in franchise competitions.
Jason Hurst, Project Thameslink
Nominated for: Commercial Award
Find out more about those who have been shortlisted at http://www.civilserviceawards.com