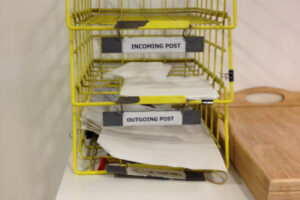 We make commercial decisions all the time and you'd be surprised at the importance small, everyday actions make on the bottom line.
For example, I never thought document scanning had much of a commercial impact. But I've have become a document scanning geek, and could probably answer questions about it on Mastermind.
How is document scanning 'commercial'?
Our post isn't an obvious place to start but I bet we all have similar experiences whatever department we work in. Post arrives on our desks and we don't think about how it got there or how many different suppliers handled it, of which Royal Mail is just one.
Each step in that chain, from the paper and ink, printers, envelopes, stamps and service contracts has a cost associated with it.
If you factor this across government you see the commercial impact of sending post between departments or offices.
Which is why scanning a document rather than sending it makes commercial sense.
Over the last year Department for Work and Pensions (DWP) has changed its mail processes and is increasing the volume of document scanning. This hasn't been and isn't without trial and tribulation but we now scan over 1 million documents each month, generating 5.5m images. Annually this is 66m images and currently only covers some of our business – which is scary!
How we faced up to change
We are a highly paper-dependent organisation with well-established arrangements, which made changing difficult.
There were pockets of understanding about the complexity but we faced a large challenge delivering a new service within 3 months across more than 500 offices.
We looked at ways to educate and inform staff how they could influence and maximise the benefits of the new system. We also realised engagement was critical for staff to fully understand the impacts on their work.
Collaboration was key to identify workable solutions. We talked to staff and suppliers and used their experience to build a dashboard showing how the changes affected DWP users. It also helped explain complex supplier contract twaddle in plain English, showing what these meant on the ground.
This all helped bed the service in and these details were shared from frontline staff up to the Permanent Secretary. We used our organisational networks to understand where these changes hurt and what the consequences to our customer journeys were.
Where are we today
This project has only just started. We're starting to build more digital capability into our processes and we're using more document scanning. We also have a better understanding with our suppliers, and we're working together to keep this momentum going.
This process is saving DWP more money, which brings us back to the beginning. Of how a small change of scanning rather than posting is a commercial decision we all make, but one that has a big impact.
Want to develop your commercial skills? Take a look at Civil Service Learning's commercial skills toolkit and find the right course for you.