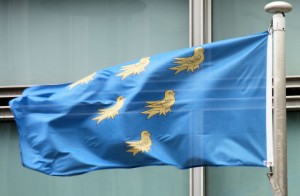 Monday (16 June 2014) was Sussex Day, which was celebrated by the Department for Communities and Local Government flying the county flag above Whitehall. They also released some interesting facts about  Sussex, including the nugget that Arundel Cathedral was built in 1868 and designed by Joseph Hansom - designer of the first taxi!
There's also a handy list of forthcoming county flag days here.
Our most popular tweet of the week questioned how digital civil servants feel, with a link to a test by innovation charity Nesta to see what sort of digital innovator you really are. We were "innovation realists".
We like an infographic and a good one doing the rounds this week was this showing the difference in cost to store 1MB of data: In 1956 it was $10,000. Today it's less than $0.0001:
Infographic of the week
As last week's clean beach map proved so popular and seeing how the coarse fishing season has opened, find good fishing spot using another great map from the Environment Agency.
Finally, this week saw the launch of Civil Service Live in sunny Bristol. Find out who was there and what was said with our Storify round-up of the day.