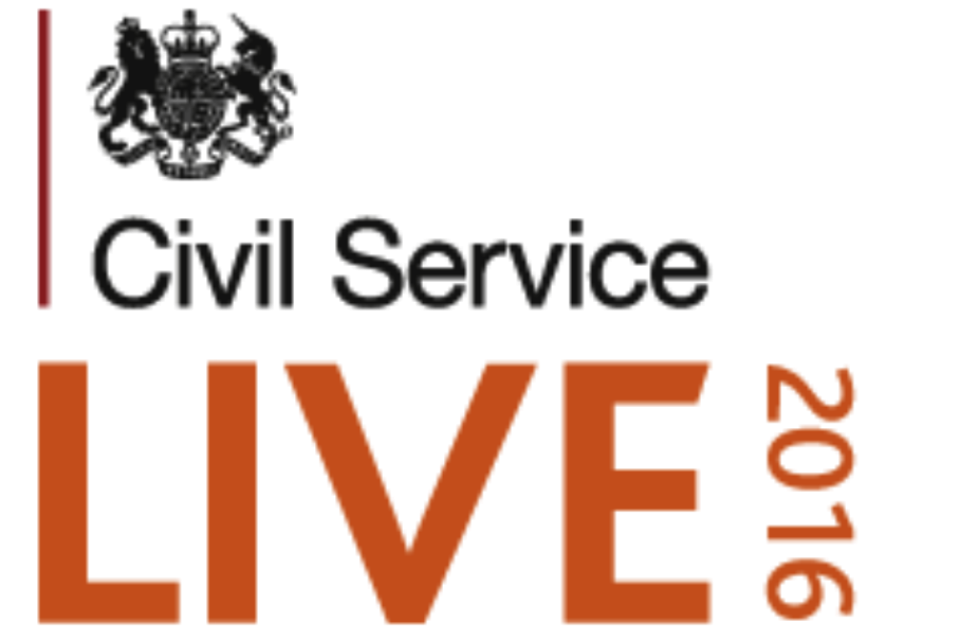 The first event of Civil Service Live 2016 is only days away. Have you registered to attend?
If you have, you will be able to:
hear from Chief Executive of the Civil Service John Manzoni about

a new vision for the Civil Service

and the part you can play in realising it

learn about new ways of working

improve your skills and learn new ones

share best practice, and

network with colleagues old and new from different departments and agencies
… and we look forward to seeing you there, in:
If you haven't, what's keeping you? There's still time to register for the event nearest you, so why not do it now?
New sessions added
Civil Service Live is the biggest single learning and development opportunity of the year for civil servants, and counts towards your annual five-days' learning and development.
There's a huge range of presentations, workshops and exhibition stands where you can see and hear about what other parts of the Civil Service are doing, be inspired to do things differently and take what you've learnt back to your teams and colleagues.
Owing to demand, we've laid on repeat sessions for some presentations, and we've added some new ones.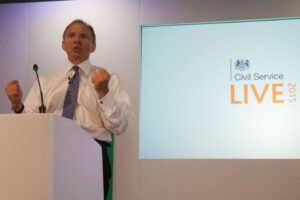 Sessions include an innovation showcase, where civil servants present their ideas for improving the way we work to Jeremy Heywood, before an audience of other civil servants. And you can see John Manzoni speak about how we create 'T-shaped' people, a metaphor for the mix of broad experience and deep skills the Civil Service needs to deliver world-class public services.
Whether you've registered already or not, there is still some space left in the following sessions. So, to avoid disappointment, book yourself in here.
If you want to attend any of these sessions, click here to register for Civil Service Live at the venue of your choice and to book a place at the session(s) you're interested in. If you have already registered, click here, select the appropriate venue, log in, using your email address, and add new sessions to your agenda. 
Venue
Session
Time
Glasgow

16 June

The Syrian Resettlement Programme (session code - IMP24)

09.30-10.15

Glasgow

16 June

The Open University: Build it and they will come? How to get learners to engage with learning (session code - SPO8)

10.55-11.40

Glasgow

16 June

PLENARY:

How do we define and develop talent in the Civil Service? (SKP1)

13.15-14.15

Glasgow

16 June

e-enabling conveyancing in Scotland (IMP23)

13.50-14.35

Glasgow

16 June

Giving back to communities: The Civil Service Lifeboat Fund (GPW3)

13.50-14.35

Glasgow

16 June

Giving back to communities: The Civil Service Lifeboat Fund (GPW3)

13.50-14.35

Glasgow

16 June

Closing address (Close1)

16.00-16.30

Glasgow

16 June

Joint working. departments working together to reduce harm and improve compliance (IMP25)

16.00-16.45

Glasgow

16 June

Sharing data, changing lives (IMP2)

16.10-16.55
Sheffield

22 June

Good Work (SPO7)

9.30-10.15

Sheffield

22 June

The Open University: Build it and they will come? How to get learners to engage with learning (SPO8)

9.50-10.35

Sheffield

22 June

PLENARY: How do we define and develop talent in the Civil Service? (SKP1)

13.30-14.30

Sheffield

22 June

PLENARY: What does it mean to be a great place to work? (GPW1)

15.00-15.45

Sheffield

22 June

Delivering public services together: Civil Service Surge Management and Apprenticeships (SKP7)

15.05-15.50

Sheffield

22 June

Devolution-proof your policy (SKP5)

16.10-16.55
Coventry

29 June

PLENARY: Improving outcomes and building trust in public services

(Head of the Civil Service Sir Jeremy Heywood; Ruth Owen; Martin Donnelly)

(IMP1)

10.15-11.15

Coventry

29 June

T-Shaped Experts - What shape are you? (

John Manzoni, Chief Executive of the Civil Service)

(SKP28)

10.45-11.30

Coventry

29 June

Civil Servants' Showcase. an audience with

Sir Jeremy Heywood

(GPW18)

12.55-13.40

Coventry

29 June

The Open University: Build it and they will come? How to get learners to engage with learning (SPO8)

13.05-13.50

Coventry

29 June

Taking control of your career development - personal perspectives (SKP11)

14.55-15.40

Coventry

29 June

Troubled Families – using data to improve policy and delivery (IMP6)

16.00-16.45

Coventry

29 June

Building world class digital technology skills in government (SKP25)

16.10-16.55

Coventry

29 June

Taking control of your career development - personal perspectives (SKP11)

16.10-16.55
Cardiff

5 July

Systems thinking: a taster (IMP19)

09.30-10.15

Cardiff

5 July

Building world class digital technology skills in government (SKP25)

09.40-10.25

Cardiff

5 July

Winner of Civil Service Live 2015 Innovation Challenge (IMP9)

10.45-11.30

Cardiff

5 July

Have your say: What next for the Government Science and Engineering Profession? (SKP22)

10.45-11.30

Cardiff

5 July

The Open University: Build it and they will come? How to get learners to engage with learning (SPO8)

12.45-13.30

Cardiff

5 July

Delivering better personal outcomes in homecare (IMP8)

15.15-16.00

Cardiff

5 July

Building world-class digital technology skills in government (SKP25)

16.10-16.55

Cardiff

5 July

Sharing data, changing lives (IMP2)

16.10-16.55
London

12 July

The essential ingredients of great engagement as used at the DWP (EFL13)

09.30-10.15

London

12 July

Delivering better personal outcomes in homecare (IMP8)

09.40-10.25

London

12 July

The Future of the Civil Service (MCO1)

11.40-12.10

London

12 July

Good Work (SPO7)

12.55-13.40

London

12 July

Winner of Civil Service Live 2015 Innovation Challenge (IMP9)

15.10-15.55

London

12 July

How to develop your team (SKP24)

16.35-17.20

London

13 July

Innovation Challenge 2016 (IMP18)

11.20-12.35

London

13 July

Winner of Civil Service Live 2015 Innovation Challenge (IMP9)

16.05-16.50