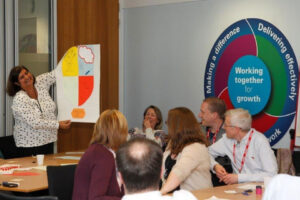 Management matters in the Department for Business, Innovation and Skills (BIS). It wants managers to be the best they can be; to inspire people around them. Nowhere is this more evident than in our Ministerial and Parliamentary Support Team (MPST).
About us
The MPST has over 100 staff at 3 sites. We're the bridge between Ministers, BIS and the world, and in a pressurised environment we're proud we take time to get management right - something proved by a recent staff survey.
Our approach
1. Management:
start with recruitment: all manager ads include the 'building capability' competence
all managers have a management performance objective
leaders set the example
2. Value success:
we reward team members who live BIS's values
we recognise managers' discretionary effort
3. Improving:
we understand managers learn from others
our managers ensure the team maximises MPST's learning and development offer
new managers are assigned buddies.
What our team says:
I know management has to be a constant focus
It's great to be recognised for handling difficult management issues
We make time for regular sharing of management challenges
My manager's excellent at getting the balance right between encouragement and stretch
Downloads
Note: some links are password protected or to departmental intranet sites so may not work