Work is what you do, not a place you go. The next generation of workforce will know that and be ready and able to work anywhere. Work has migrated beyond the conventional boundaries of time and space into a wider environment and those who manage the government estate need to be prepared. The office is rapidly becoming just one of a network of options, and for many people their work and personal lives are becoming more integrated.
So said Gus O'Donnell, former Cabinet Secretary and Head of the Civil Service in Working beyond Walls (OGC/DEGW publication) in 2008. It was true then and its true now - and for many of us it's become reality.
Over the past decade or so the idea of the workplace as a contributor and enabler of business productivity as well as individual and social well-being has grown from a fairly niche concept promoted by property and estates people to being a 'game-changer' for reform of the Civil Service.
Guidance on workplace transformation has been available for central government since 2004 with the publication of Working without Walls in 2004 and Working beyond Walls in 2008. More recently its potential for transforming our work and our lives is described in The Way We Work: A Guide to Smart Working in Government released in 2014. In the Cabinet Office's The Way We Work programme (TW3) modern workplaces are matched with mobile technology and simplified security to support flexibility, agility and connectedness. We call this Smart Working. Being 'smart' about how we work is at the heart of being more effective and efficient - but what does that mean?
What is Smart Working?
An approach to organising work that aims to drive greater efficiency and effectiveness in achieving job outcomes through a combination of flexibility, autonomy and collaboration, in parallel with optimising tools and working environments for employees.
Chartered Institute of Personnel and Development
Or put more simply "Smart Working really just means being thoughtful about the tasks we have to achieve each day and choosing the most appropriate location from which to accomplish them." Top Tips for Smarter Working (Cabinet Office 2014).
What does this mean for offices?
The evolution of government office space towards full non-territorial working is firmly established across the civil service; it is widely accepted that people should work in the most appropriate setting for the work they're doing, regardless of location. This might be within the traditional office, but liberated by information technology, it might be in a range of locations. All have to be integrated into a workplace strategy that acknowledges that the office is no longer always the place where value is created; increasingly workspace is just one tool for doing work.
The Office Evolution Model was developed for a research report commissioned by OGC into the state of Flexible Working in Government in 2003. This model has stood the test of time and is still relevant 10 years after it was first published. The difference is that in 2004 we estimated most government offices were at Stage 2; now we estimate that for many civil servants Stage 5 is the norm.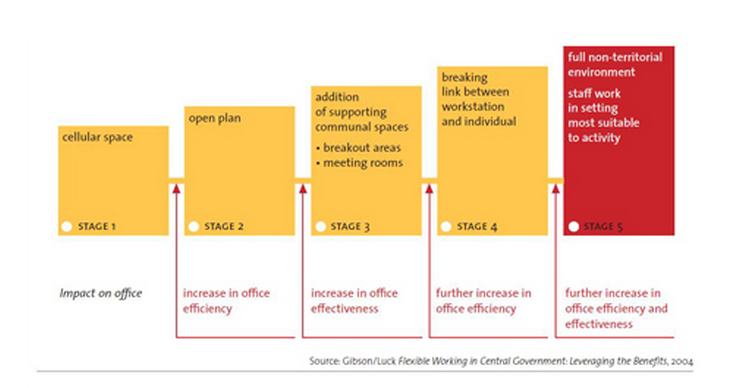 Why come to the office at all?
With workforces distributed by time and location, accessing buildings only periodically, the role of buildings will shift dramatically. If work can take place anywhere, why come to the office?  Offices are still important because they can provide great places for interaction and collaboration, knowledge transfer and communication - vital to most people and organizations to function effectively. Its just that offices are no longer the only, or even the best places for every kind of work we need to do, and it makes sense that people can now choose other workplaces that work better.
As office work frees itself from the confines of single building boundaries to become distributed across locations and time, the future for an increasing proportion of the government workforce will be in highly connected, geographically spread locations.  Geographical locations that have the potential to support smart working will have different strengths, weaknesses, opportunities and risks.  For offices greater stress will be placed on a building's interior elements as shared resources intensify the use of office space, requiring increasingly higher levels of durability, functional utility and design.
Is there a Stage 6?
It's a good question. People are asking 'What next?' We think this will be understanding better and being able to describe what 'Smart Working' means for a wide range of different jobs not just those traditionally associated with office work but other front-line and operational jobs - whenever and wherever we do our work serving the public.
What do you think? Let us know by leaving a comment below: