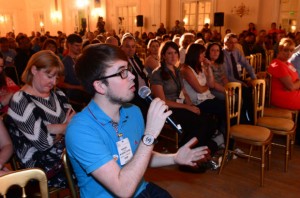 Hot on the heels of Bristol, the Civil Service Live bandwagon pulled up in Liverpool's Adelphi Hotel for a jam-packed day of networking, stands, workshops and some tough Q&As in the plenary sessions. You can find all the social media reaction on our storify round-up, the Flickr album from the day, or just check out our debut vine featuring one of the trainee prison search dogs saying 'hello'.
There was also plenty of debate around various policies in the news this week:
Our most popular tweet this week saw Sir Bob Kerslake sharing his highlights of Civil Service Live: Bristol
Infographic of the week
Wimbledon started this week, just in time to distract us all from limping out of the World Cup. Will Andy Murray make it two in a row, will Cliff sing to the crowd? We don't know but we do like this lovely infographic from the British Consulate-General in New York (ukinusa)
Finally, today was the anniversary of the creation of the iconic 'Keep Calm and Carry On' poster, and the history blog revealed the compromise behind the slogan.