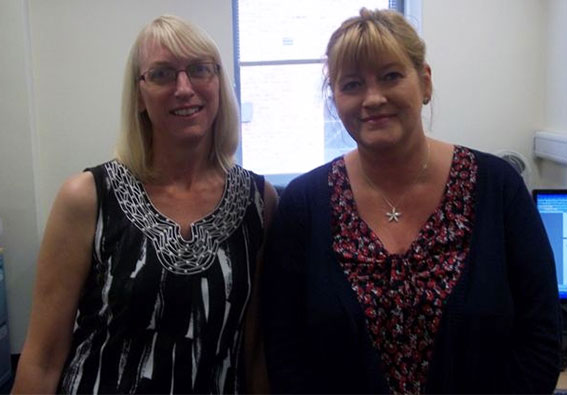 Beverley Adams and Tracy Armstrong are Senior HR Equality Advisers at the Ministry of Justice (MOJ). They first started job sharing in 2001 when the Court Manager at Newcastle Upon Tyne Combined Court decided to put the two together, working 3 days each at opposite ends of the week. Although they didn't choose each other, their job share arrangement has proved to be really successful and they have been able to jointly gain two promotions and stay together as a job share for over 11 years.
"We had no previous experience of job sharing but we took to it really well. We are both very different people and have different views from each other but we have learned to compromise and recognise when one of us feels strongly about something. As our job share relationship developed we could recognise each others' strengths and weaknesses and understand each others' working styles. We have benefitted from job sharing by being able to progress our careers while still achieving a good work life balance. The MOJ has gained both sets of skills, expertise and experience in one role.
"We share all of our work, although on occasions one of us may be more involved in a particular piece of work than the other. It is very important to both of us that we take joint credit for everything we do; although we appreciate that this won't work for everyone, it works for us. We also understand that it is unrealistic to check every decision with each other, we work on the basis that whoever is working on that day will make the decision and the other accepts that. We don't always agree on everything, but one of the most important things when you job share is to always present a "united front" if you want others to take you seriously.
"We share an email account which makes communication easier for ourselves and others and we find having an overlap day is helpful to discuss work face to face. As we work remotely from the rest of our team, it is nice to have the support of your job share partner and someone to bounce ideas off."