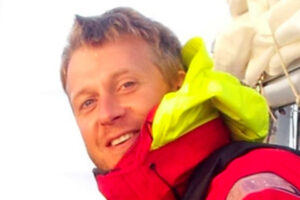 In a new series of 60-second interviews around the Leadership Statement, we are asking colleagues from across government what leadership styles and behaviours have worked particularly well in their teams.
Paul McCloghrie, Head of Energy, Environment and Transport in the Cabinet Office's Civil Contingencies Secretariat, leads a team who prepare and plan to mitigate the risk of national emergencies. The Civil Contingencies Secretariat work co-operatively across government to ensure civil protection in the UK. One of his former team members asked Paul to be interviewed for this series as she admired his empowering, inspiring style of leadership.
What does your team do really well?
In the Civil Contingencies Secretariat we are constantly up picking up new challenges. One thing we do really well is working out what's important and prioritising it. Cutting through the surrounding information to focus on what the key facts are, to sort the problem, is crucial to being able to do our job effectively.
What's the biggest lesson you've learned from your team so far?
When things get busy, which happens regularly, I depend on my team to help me make space and time to look at the bigger picture. When we're working on short-term projects it's really easy to get caught up in the rush. Finding time and space for us to put our head above the parapet and see the next challenge coming is vital to ensuring that we can be on the front foot.
Which point of the Leadership Statement do you think your team finds most challenging and why?
Valuing the professional expertise of others. We act as troubleshooters and are often working to pick up a new issue, focus on it and fix it. This makes it hard to see the wider picture. Quite often we find it difficult to see the broader and longer-term impacts of our work, partly due to time pressure. We have to really concentrate on building relationships with policy experts across government, valuing their expertise and deep sector and policy knowledge so that we are sure that we are doing the right thing and are aware of the risks.
What has your team done to meet this challenge?
Establishing relationships rapidly is key – making sure we know the policy teams that work on any particular area and that we are open and approachable, so that people can let us know what effects or unintended consequences our actions might cause.
How else have your team improved your leadership skills in the last year?
We work on many short projects and feedback is very important. This means feedback about our individual skills and ensuring we are self-critical about our projects. At the end of a busy and successful project it's very easy to pat ourselves on the back. But it's important to maintain a critical eye on our work, both by asking our team and by sourcing feedback from the wider community of people we work with, focusing on identifying what didn't work and where we can improve. We need to maintain constant pressure,so that this becomes part of the culture of our work.
What's the question you'd most like to have been asked, and why?
I would have liked to answer, "How do you maintain focus on strategic projects when you are working on short-term responses?"
The thing I find most challenging in this job is maintaining focus, because our work often comes out of nowhere, requiring you to drop other, longer-term, projects to prioritise the crisis. We change focus so rapidly that when we come to the end of a busy period, getting back to the day job is hard. Supporting the flexibility of the team whilst giving them the space to think strategically is hard, but vital – as is building flexibility into our projects from the outset, and communicating well to ensure we don't make promises to our customers that we can't then deliver.